Description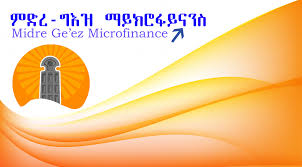 BACKGROUND
Midre-Ge'ez Microfinance SC is organized as a profit-making business under the Proclamation No. 626/2009, Micro-Financing Business Proclamation of the Federal Democratic Republic of Ethiopia, in July 2010. Its head quarter is located in the Regional state of Tigray. The Midre-Ge'ez microfinance Share company intends to contribute its fair share to solve the problem of financial exclusion that is a major challenge to the development of the country. Access to finance is considered as an important condition for sustainable and equitable development of any country. Therefore, its main focus will be on serving those who have been excluded the privilege to benefit from accessing the formal credit system for utilization of their entrepreneurial skills to create value that serve themselves and the society at large  The vision of this company is designed to be successful business with the unreserved commitment of the founders who are professionally qualified in finance, business management and law, who are a holder of MBA, ACCA, CAT in Accounting and Master Degree of tax Law and PhD in finance. Thus, Midre-Ge'ez Microfinance is looking for competent candidates of Chief Executive Officer. And the successful candidates will have skills and experience that meet the following requirements:
JOB SUMMARY
The CEO will be reporting to the Board of Directors. He/she will be in charge of the overall management of the institution, including providing clear leadership and direction to the institution, ensuring concrete operating and financial performance, recruiting and developing the talent needed to accomplish high performance standards and overseeing innovative operational systems and procedures. He/she will have main responsibility for achieving the ambitious growth strategy developed by the institution, and for positioning Midre-Ge'ez as a leading provider of high-quality financial services. And performs other duties as assigned.
MAJOR DUTIES AND RESPONSIBILITIES
Overall Management and Governance
Manage the day-to-day operations of the institution by providing clear leadership and guidance to all departments of the institution, including: Finance and HR, Operations, IT, planning, procurement, legal, and risk management and reports the performance to the board of directors.
Execute the policy, rules and regulations of the Midre-Ge'ez Microfinance Institution and policy decision of the board of directors
Serve as ex officio non-voting member of Board of Directors
Cultivate culture of cooperation and high performance
Drive organizational performance, both quantitative and qualitative; achieve business plan targets
Ensure effective collaboration with Midre-Ge'ez team under the Management and Technical Assistance Services Agreement
Uphold standards of risk management at all levels and ensure effective supervisory control and management review
Sustain the institution's social mission and its dedication to financial inclusion
Management of overall portfolio growth
participates in evaluating, approving, or rejecting loans according to the level of his/her discretion
Ensure saving deposit and withdrawals in accordance to the policies of the Midre-Ge'ez Microfinance Institution
Focus on key initiatives of diversification of the service ranges, to better serve the core and new segments of reaching customers, new products and introduction of services
Strategic Planning and Business Development
Develop annual, longer term plans and budgets, by incorporating input from the different departments and get approval by the Board of Directors
Determine financial and operational performance targets for all key operating units
Deliver profitability, business and market share growth strategies of the institution.
Oversee the implementation of budgets and strategic plans, including oversight of fundraising
Lead the MFI's expansion into new geographic areas of Tigray and in the country as well.
Human Resource and Talent Development
Recruits staffs under his/her discretion level.
Introduce an effective and competent participatory management style
Set employee performance standards required to achieve short and long term objectives and goals
Develop a strong and effective senior management team
Motivate all staffs and ensure that staffs are dedicated to achieving given objectives
Mentor and coach Senior Management Team
Implement performance management system for senior management team
Oversee and support the development and implementation of effective HR policies and procedures for recruitment, training and talent development
Motivate all staff and ensure that staff is dedicated to the mission of the MFI
Communications and External Stakeholder Relations
Inspires staff to achieve high standards of performance and disseminates a culture based on ethics, excellence and client satisfaction
Build the MFI's reputation as a company committed to excellent client services, both internally and externally
Maintain solid relations with shareholders and external parties, including the MMSE, the Government of Tigray, investors, and other business partners
Ensure quality information flow to investors, regulators and other stakeholders as relevant
Ensure that fund raising activities are done by assigned employees
Financial and Risk management
Ensure solid operating and financial performance
Deliver the level of financial and operational performances as expected while keeping risks under control
Oversees risk management and ensure compliances with all legal requirements that affect the institution's business,
Identify various risks like financial, liquidity, credit, operation, technological, marketing risks and the like, and identify the risk gaps and propose recommendations.
Operational Management
Provide clear leadership and direction
Develop proposals for further improvement of operation, including concepts for new products and services
ensure that the organization's finance has been utilized properly to carry out major functions
Manage, plan, organize, direct and control all the activities of an organization such as logistics, procurement, warehouse, property administration and the like.
Identify and address problems and opportunities of the institution
Build alliances and partnerships with other organizations
Community and Public Relations
Serve as a Key Point of Contact with the community, also represents in community events, serve as a symbolic person, and promotes Midre-Ge'ez Microfinance Institution.
Build and maintain Strong relationships with consumer, community, employee, and public interest groups.
Responsible for Studying the organization's objectives, promotional policies, and needs to build public relations strategies that influence public opinion and promote products, ideas, and services.
Updating and maintaining Web content.
Job Requirements
REQUIRED QUALIFICATIONS:
Essential
Minimum of BA in Banking/Finance/Business Administration/social science/Economics/Accounting/Marketing/Agricultural Economics/Management or related fields Or MBA in Finance/international Business/social science/cooperatives or related fields
At least 12 years for BA and 10 years for MBA working experience, out of which 3 years in a senior management Position and 5 years in a retail bank or similar financial services company
Clear understanding and experience of micro-finance industry and retail banking.
General knowledge of a wide range of micro banking products, including loans and savings
Experience in leading an extended multi branch network.
Capability and willingness to lead the organization forward.
Advanced knowledge of retail banking operations, products and services as well as knowledge of standard baking compliance regulations, banking law, business law, employment and labor law, internal operational policies and procedures
Demonstrated experience leading and building cohesive, high performing teams
Ability to delegate effectively amongst teams and show commitment to the long-term development of the management team through coaching and mentoring
Comfortable in a fluid environment, self-directed, flexible and creative
Commitment to the institution's social mission and corporate values
Fluency in English is required
Willingness to be based in Mekelle, with frequent travel throughout the country
Desirable
Experience of working in a complex multi-cultural contexts
Have knowledge of Peachtree and other accounting system
Certified in any one of: ACCA, CPA, CAT, IFRS or CIMA
Applying Instructions
Interested applicants who meet the MINIMUM requirements should send the following through MidregeezMFI@gmail.com
 a.   A CV (not more than 3 pages)
b.   A cover letter (not more than one page)
c.    Expression of interest (One page) 
For hard copy applicants you can submit non-returnable application and credential copies through P.O.Box 1211(Location Mekelle) or contact thorough mobile phone numbers 0913617795/0911362042/ 0914727300 by ensuring that the job title is clearly stated in the cover letter. All applications will be received within 10 days of this advertisement. Please also note that only shortlisted applicants will be contacted, and finally original documents will be cross checked with original.
Women applicants are highly encouraged to apply
WARNING: Do not to pay any money to get a job. Please report fraudulent jobs to info@newjobsethiopia.com