Communications Manager (Re-advert)
Description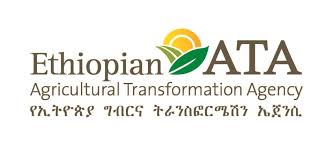 The Ethiopian Agricultural Transformation Agency (ATA) is a strategy and delivery-oriented government agency created to help accelerate the growth and transformation of the country's agriculture sector. The ATA envisions that, by 2025, smallholder farmers are commercialized with greater incomes, inclusiveness, resilience and sustainability, contributing to Ethiopia's achievement of middle-income country status.
The agency focuses on two primary national approaches to catalyze agricultural transformation. First, we support the Ministry of Agriculture and Livestock Resources (MoA), its affiliate institutions, and other partners to identify and address systemic bottlenecks within an Agricultural Transformation Agenda. Second, we support Regional Governments to accelerate development of high-priority commodity value chains in clearly defined geographic clusters, through the Agricultural Commercialization Clusters (ACC) Initiative.
Our major activities include conducting strategic and analytical studies, providing technical implementation support, coordinating platforms to better integrate partners and projects, and designing and directly leading a number of implementation projects. Our headquarters are in Addis Ababa, and we have regional offices in Amhara, Oromia, SNNP, and Tigray regional offices, allowing us to work closely with a wide range of public, private and development sector partners across the country.
Our Culture
We have an exceptional team of highly competent employees with a proven track record of success in managing complex activities and achieving transformational results.  Our culture is one where talented, dedicated and adaptable individuals are committed to doing their best and exhibit great team work to achieve excellent results.
At ATA, we provide an exceptional platform for people who want to achieve their highest potential and make a meaningful contribution in changing the country's agricultural sector.  We offer rewarding work in a young, fast-paced growing organization with passionate, committed, motivated colleagues and excellent career development and training.  We recognize our most valuable assets are our staff and are committed to providing our employees with the tools, training and mentorships necessary to achieve their career goals.
POSITION SUMMARY:   
The Communications Manager is a position in the ATA Communications Team, which is part of the CEO Office. The Communications Manager will be responsible for the development and successful implementation of the ATA Communications Strategy, and, when needed, management of other members of the Communications Team.
The Communications Manager will work across all areas of the organization as a strategic communications, public relations, outreach and internal communication generalist, and will work with the Communications Director to shape and manage ATA's visibility initiatives and strategic communications support to program/project teams. In particular, s/he will develop and drive the ATA's activities on media engagement, events management, social marketing, a SD outreach campaigns.
The successful applicant will have a passion for strategic storytelling coupled with the entrepreneurialism and pragmatism to execute at a tactical level. S/he should also demonstrate a genuine commitment to developing a team and assisting the organization with its progressive Transformation Agenda. The position will report to the Communications Director and presents a unique opportunity to work with the ATA Senior Management Team and mobilize stakeholders within an exciting national and international context. The position is based in Addis Ababa.
 ESSENTIAL DUTIES:
Manage the communications team, creating an enabling environment that fosters creativity, innovation, and personal development of team members.
Support the development and successful implementation of the ATA Communications Strategy.
Organize and oversee the planning and execution of successful events, outreach activities, (social) marketing initiatives, and other visibility efforts for the ATA as a whole and for specific project needs.
Organize and lead communications campaigns for high level events.
Liaise closely with the Communications Director and Senior Management Team members in defining and communicating key organizational messages for ATA as a whole and for high priority projects.
Oversee the creation of a broad range of high-quality communications materials, both printed and electronic, working with design colleagues.
Oversee the development of ATA periodic internal and external publications such as the ATA Annual Report, Quarterly Newsletter, CEO Circular, etc.
Oversee the management of the ATA website, ensuring pages are current and up to date.
Support the monitoring, analysis and evaluation of communications efforts and help to identify new communications approaches and opportunities and report on activities.
Build and maintain strong relationships with counterparts in government and development partner organizations, media representatives, advertising and design agencies, and other communications-related organizations to ensure successful communication of ATA's and the Transformation Agenda's progress and results.
Lead in developing and implementing the organization's internal communication strategy by maintaining, refreshing, and designing new employee communication and knowledge management platforms to meet the organization's evolving needs.
Strengthen the ATA intranet, finding creative ways to make it an organizational hub for staff – through consistent updates, news, staff stories and other content.
Develop and implement a capacity building program inside ATA to support relevant ATA staff improve their internal and external communications-related skills.
Ensure the quality, consistency, timeliness, and professionalism of all ATA communications materials, through brand manuals, communications toolkits, and team trainings.
Handle other tasks as assigned by the Director of Communications and/or CEO Office Senior Director.
Job Requirements
 REQUIRED QUALIFICATIONS:
Bachelor or preferably master's degree in communications, public relations, marketing, journalism, international relations, media relations or other relevant field.
At least 8 years (with BA) or 6 years (with MA) of relevant professional experience, preferably in an external engagement, public relations, and event management role with a national or international focus.
Excellent interpersonal and stakeholder engagement skills with a proven track record dealing with government bodies, development agencies and the media.
Self-motivated team-player with proven ability to contribute to organizational success at both a strategic level and an operational level in large, complex organizations.
A good storyteller with first rate written and verbal communication skills
Outstanding organization, time management and budgeting skills to leverage for large event management.
Experience in and passion for the agriculture and/or development sectors would be desirable.
Proficient in MS Office applications, including MS PowerPoint.
Fluent in written and spoken English and Amharic.
Applying Instructions
We invite all candidates meeting the required qualifications to submit (i) a cover letter and (ii) CV (maximum 3 pages) to https://apply.ata.gov.et
It is mandatory to mention the position title in the subject line of your application email.
Please DO NOT submit scans of educational and experience certificates with your application.
Women are highly encouraged to apply.
Only short-listed candidates will be contacted.
WARNING: Do not to pay any money to get a job. Please report fraudulent jobs to info@newjobsethiopia.com