Consultancy: Documenting promising initiatives in addressing violence against children in Africa
Location

Addis Ababa, Ethiopia

Date Posted

June 26, 2020

Category

Consultancy



Job Type

Contract



Currency
ETB
Description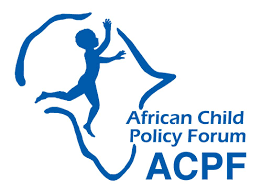 1. Background and Rationale
With the adoption of African Union (AU) Agenda 2063: The Africa we want, the SDGs and the Africa's Agenda for Children 2040, African countries have made decisive political commitments to combating and eliminating violence against children within their broad national human development agenda. These agendas, which have their roots in the foundational principle of Leave No One Behind, have guided national, multi-sectoral efforts in combating violence against children in all its forms. As part of their national efforts, a growing number of countries have prioritized investments in building evidence and knowledge to better understand the nature and prevalence of violence against children including, evidence around why some children are more vulnerable than others as well as the settings in which violence occurs. And more than ever, encouraging efforts are also underway to enforce normative frameworks and put in place systems and programmatic measures for effective prevention and response.
To this end, there has been an increased investment in resources on interventions that have been proved to be successful such as household economic strengthening targeting high-risk families; positive parenting programmes involving young children; school-based programmes for in-school children; and life-skills programmes targeting adolescent girls and boys. Building on this growing evidence of what works to address violence against children, a package of universally endorsed strategies- INSPIRE[1]- was developed in 2016 to assist countries deliver on all targets related to violence, particularly target 16.2 of SDGs. This framework is used by many countries as a technical package for selecting, implementing and monitoring effective policies, programmes and services to prevent and respond to violence against children. Many countries in Africa have adopted the INSPIRE strategies to develop and implement their own home-grown initiatives, most of which are yet to be thoroughly analyzed and evaluated.
With a view to catalyzing replication of good practices in the continent the African Partnership to End Violence against Children (APEVAC) aims to document and undertake an in-depth analysis home-grown initiatives and strategies in Africa that have proven successful in addressing the risks and drivers of physical, emotional and sexual violence resulting to measurable reduction of violence.
2. Objectives
The aim of the assignment is to document and analyze initiatives and strategies that have successfully addressed the risks and drivers of physical, emotional and sexual violence resulting in measurable reduction of violence.
Specifically, this assignment aims to:
· document promising initiatives and practices that have proved to be effective and locally relevant and have the potential to be sustainably scaled up in preventing violence against children;
· analyze the elements within those promising initiatives that have contributed to reducing risk factors and drivers of violence and those elements that have promoted protective factors; and
· identify enabling factors – at both local and national levels – that determine the success and effectiveness of home-grown initiatives in violence prevention.
3. Scope of the Documentation
The documentation will capture violence prevention initiatives and strategies that have had clear, measurable impact in the following areas:
· Initiatives and strategies that effectively address the risk factors to violence. i.e. individual, relational, community, and societal factors that heighten the risk of a child being exposed to violence.
· Initiatives and strategies that effectively address drivers of violence, i.e. institutional and structural conditions and context in which violence is more likely to occur.
· Initiatives and strategies that build on protective factors and/or leverage the skills, strengths, resources, supports or coping strategies that a child has individually or in relation to her/his family, community or society that protect the child and reduce his/her exposure to risks of violence.
The documentation will focus on 10 countries – Botswana, eSwatini, Ethiopia, Ghana, Malawi, Namibia, South Africa, Uganda, Zambia, Zimbabwe.
The documentation will also examine any efforts to adapt existing good practices to deal with the impact of COVID 19 on children.
4. Methodology
The study will apply a mixture of both case study methodology and evaluation techniques, to identify, document and analyse good practices that have proved impactful and successful in addressing violence against children. This will be done in a two-step process:
STEP I: SELECTION OF GOOD PRACTICES
· Project inventory taking: a rapid scanning of completed and ongoing projects and initiatives will be done in the selected countries to produce an inventory of initiatives from which to select good practices.
· A selection of good practices: Based on the inventory, a rigorous selection of good practices will be undertaken for further analysis, using the following selection criteria:
o Ability to address both risk and protective factors to violence
o Better accessibility
o Equitable targeting
o Ability to capitalize on community knowledge and physical resources
o Potential for scalability, adaptability and sustainability
o Level of community acceptability/ownership/local relevance
· Establishing national contact/focal person: the national contact/focal person will provide critical support to the principal researcher, including by serving as the link between the principal researcher and government sectoral offices, ensuring the right organisations and their experts are contacted as well as supporting in identifying the good practices on the ground. The national contact/focal person is someone who is knowledgeable with current violence prevention and response initiatives and key players of the country in question.
Priority will be given to identifying home-grown violence prevention strategies.
STEP II: ANALYSING THE SELECTED GOOD PRACTICES
Each case identified will be thoroughly examined for its effectiveness, concrete impact and success in reducing risk factors, promoting protective factors and critically addressing the drivers of violence. A combination of data collection techniques will be employed to do so.
· Desk review: the documentation will apply secondary analysis, which will include, among others, review of: (i) reports of randomised control trails, if any, conducted to evaluate projects; (ii) project documents, including project evaluation reports; (iii) government reports; (iv) documentations of UN agencies and civil society organisations; (v) documentations of treaty bodies; and (vi) scholarly peer-reviewed journals.
· Key informant interviews and/or consultations through national contacts or focal persons: virtual consultations will be held with project implementing agencies, relevant government sectors, members of national multi-sectoral and stakeholder committees/groups, UN agencies, civil society organisations, and private sector using appropriately tailored questions to identify and analyse the success factors and underlying reasons.
· Self-assessment questionnaires: sector-specific online questionnaires will be circulated for senior experts and staff of relevant government sectors, members of national multi-sectoral and stakeholder committees/groups, UN agencies civil society organisations, and private sector, to allow for detail elaboration of the successful initiatives and strategies.
5. Language and style
The report will be succinct, with clear arguments that are backed by evidence, written with the policy maker as its primary intended audience.
6. Timeline
The timeline of key activities. The selected consultant will be expected to submit an inception report within a week from his/her selection for the assignment. He/she is also expected to submit the first and draft reports of the research report according to the timeline that will be provided by ACPF.
7. Required expertise and qualification
Candidates must meet the following requirements:
· Postgraduate or other advanced university degree in the area of child/human rights, law, political science, development studies or any other related discipline;
· At least 10 years of traceable experience of working and/or conducting research, evaluation of child protection programmes and projects at national, regional and continental levels, with a particular focus on violence against children;
· Demonstrable analytical skills and practical exposure in applying child rights and gender analyses;
· Demonstrable experience of working with governments;
· Having good knowledge of violence prevention and response at global, continental, regional and national efforts;
· Past experiences in similar assignments of documenting good practices and/or strategies on violence prevention;
· Proficiency in English is a requirement and knowledge of French and African local languages an added advantage.
[1] INSPIRE is an acronym representing seven strategies in violence prevention: I stands for the implementation and enforcement of laws; N stands for norms and values; S stands for safe environments; P stands for parent and caregiver support; I stands for income and economic strengthening; R stands for response and support services; and E stands for education and life skills. In addition, there are two cross-cutting activities (multi-sectoral action and coordination and monitoring and evaluation) that help connect and strengthen the seven strategies and monitor the extent of their implementation and impact on the problem.
Applying Instructions
Interested and suitable candidates are requested to send their technical and financial proposals, of not more than five pages, and a CV, of not more than three pages, to: [email protected] and [email protected] on or before 22 July 2020. The successful candidate will be asked to develop an inception report that will outline in detail the scope of the work and tools to be administered.
Only short listed candidates will be contacted.
WARNING: Do not to pay any money to get a job. Please report fraudulent jobs to info@newjobsethiopia.com