Description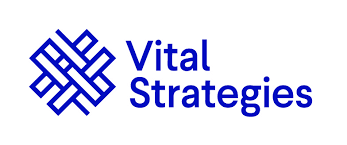 Vital Strategies, headquartered in New York City, is an international public health organization. Our programs strengthen public health systems and address the world's leading causes of illness, injury and death. We currently work in 73 countries, supporting data-driven decision making in government, advancing evidence-based public health policies and mounting strategic communication campaigns. Vital Strategies' priorities are driven by the greatest potential to improve and save lives. They include non-communicable disease prevention, cardiovascular health promotion, tobacco control, road safety, obesity prevention, epidemic prevention, overdose prevention, environmental health, vital statistics systems building and multidrug-resistant tuberculosis treatment research. Our programs are primarily concentrated in low- and middle-income countries in Africa, Latin America, Asia and the Pacific; the Overdose Prevention Program is our first initiative in the U.S. Please visit our website at www.vitalstrategies.org to find out more about our work.
The Country Coordinator will be responsible for ensuring that the implementation of the Bloomberg Philanthropies Data for Health supported civil registration and vital statistics (CRVS) activities in Ethiopia are country-owned and country-driven, technically sound and sustainable as well as in line with current best practice standards. They will ensure that Initiative activities are continuously monitored, and roadblocks are identified and reported in a timely manner. The Country Coordinator will support monitoring, evaluation and reporting related to the Initiative.
The Country Coordinator will be seconded to the Federal Ministry of Health, under the co-supervision of Director Policy and Planning and the Data for Health Initiative Technical Advisor. The Country Coordinator will work with the Ministry, Immigration Nationality and Vital Events Agency (INVEA), The National Center of Statistics and other key CRVS stakeholders, under the co-supervision of the Ministry's leadership and a Data for Health Initiative Technical Advisor. They will interface between government agencies, D4H Initiative partners, and other critical CRVS stakeholders in the country.
Duties and Responsibilities
Collaborate with government and initiative partners to develop Data for Health CRVS improvement work plans with clear targets and budgets on priority interventions related to country CRVS strategy/roadmap;
Produce operational work plans with clear milestones, timelines, and monitoring plan for each prioritized intervention, based on input from relevant Ethiopian government agencies and Initiative partners;
Project management of Data for Health supported CRVS activities - provide oversight of implementation of all Initiative activities in accordance with regulatory requirements and according to government's aims, objectives, approved work plans, budgets and protocols;
Coordinate delivery of CRVS-related trainings, meetings and workshops;
Facilitate government-approved in-country visits by Initiative partners as required;
Coordinate procurements of materials and supplies for D4H supported activities;
CRVS Committee
Participate in CRVS Committee meetings, if and as directed; compile and share reports on meeting proceedings;
Participate and provide technical support to various working groups on CRVS improvement according to government priorities;
Prepare Technical Working Group meetings and suggest agenda for inputs, as needed.
Liaison, Reporting and Monitoring
Communicate regularly with and report on initiative progress to senior government officials, Vital Strategies Technical Advisor, and Initiative partners;
Monitor in-country D4H CRVS expenditures and ensure that all such expenditures are made in accordance with agreed work plans, budgets and protocols, obtaining all required approvals before expenditures are committed or expended.
Continuously monitor Initiative activities in order to identify and report all challenges to implementation of Initiative interventions.
Education and degree
Post-graduate degree in relevant field (public health, epidemiology, demography, health information systems, MD plus relevant experience), etc.) from a recognized university
Experience required:
A minimum of 8 years' relevant professional experience
Skills & abilities
Demonstrated experience working with or in the civil registration and vital statistics system in Ethiopia
Prior experience working in one or more government ministries in Ethiopia
Fluent in Amharic and proficient in English
Proficiency with Microsoft Office suite (MS word, Excel, Outlook)
Strong organizational and verbal and written communication skills
Willingness and ability to travel in-country and internationally
WARNING: Do not to pay any money to get a job. Please report fraudulent jobs to info@newjobsethiopia.com