Description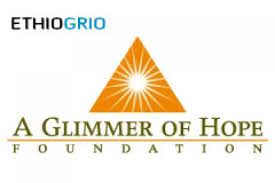 A Glimmer of Hope (Glimmer) is a US based charitable organization with the mission of empowering rural Ethiopian communities to end the cycle of extreme poverty.  Glimmer is a nonprofit organization working to make a sustainable difference in the lives of rural Ethiopians through water, sanitation, health, education, Livelihood and veterinary projects.  Glimmer was founded in Austin, Texas, USA in March of 2000. The Ethiopian country office ("Glimmer Ethiopia") was founded in Addis Ababa in April 2000.  Glimmer fund the implementation of projects in Ethiopia through local NGO partners operating in four bigger regions of the country (Tigray, Amhara, Oromia and SNNPR).  Since 2000, Glimmer has implemented over 10,000 projects in Ethiopia.
A Glimmer of Hope – Ethiopia Country Office would like to hire potential candidates for the following positions for its country office, on competitive basis. Hence, the country office hereby invites competent individuals who fit the requirement stated in the advert to apply.
JOB SUMMARY:
Reporting to the Data & Systems Manager, the Data & Systems Officer will primarily focus on developing, testing and administering technical tools used for digital data collection, and the integration of these tools with Glimmer's data warehouse for use in reporting and analysis. The Data & Systems Officer will help manage and ensure data integrity, and will maintain an understanding of Glimmer's larger Monitoring, Evaluation, Research & Learning (MERL) System. In addition, the position will provide internal office support related to information technology and cybersecurity.
SUMMARY OF RESPONSIBILITIES & TASKS:
Oversee and closely manage the primary technology that supports Glimmer's digital data collection in the field, CommCare. Under the direction of the Data & Systems Manager, act as principal liaison with Headquarters regarding CommCare. (See full responsibilities related to CommCare below. *)
Help manage additional source systems for the collection and input of MERL data that supports organizational tracking of outputs, impacts, outcomes and sustainability over time. In addition to CommCare, Glimmer source systems include Formstack, Drupal, NetSuite, Excel and others.
Understand and contribute to the development of Glimmer's evolving cloud-based MERL System, which currently includes:

BI/visualization software (Tableau)
A data warehouse (Snowflake)
An ETL tool (Matillion)
Data collection tools and databases (CommCare, Drupal, Formstack, Excel, etc.),

Help develop and implement data governance principles for managing the availability, usage, integrity and security of Glimmer's data. This includes working as part of the team that documents Glimmer's data standards, data policies and processes, as well as data dictionaries/catalogs.
Serve as the primary onsite IT resource to assist Headquarter in troubleshooting and providing technical support for issues that arise in the Addis office, including staff computers, Internet access and cybersecurity.
Identify opportunities for IT-related improvements in the Addis office.
COMMCARE RESPONSIBILITIES & TASKS:
New Application Builds
Build new applications within CommCare that support both short-term and ongoing data collection for Glimmer's programmatic and MERL activities. This includes Glimmer's value chain loan programs, baseline/midline/endline/impact assessments and cooperative assessments, and more.
Manage backend classification and naming structures to ensure that the same data points are consistently identified and tracked across applications and geographies.
Collaborate closely with the MERL and Programs teams to ensure applications are effectively capturing the intended information, while simultaneously paying attention to technical design and structure, making sure data is accurately validated, coded and scored as needed.
Within application design, develop and build methods for scoring various indices embedded within assessment survey tools.
Oversee comprehensive testing for all new applications and version releases.
Work with the Data & Systems Manager to establish integrations between CommCare applications and Glimmer's data warehouse.
Monitoring & Troubleshooting
Monitor all live applications and oversee incoming data to ensure quality. Work with Data & Systems Manager to track, troubleshoot and resolve data entry/data quality issues with Program Officers and partners.
Create basic reports and data exports from source systems for interim purposes, including monitoring and data cleansing.
Work closely with the Data & Systems Manager to clean data within CommCare as needed and maintain/update integrations between CommCare and the data warehouse.
Develop and test updates to existing applications as needed; work with Glimmer staff and partners to oversee version releases.
Tablets & Training
Set up user accounts and configure tablets for use by data collectors.
Oversee tablet inventory tracking, check-out process and assist with procurement.
Provide technical training & support to partners and data collectors in the field.
Help create and update training materials on technical aspects of software use.
Data & System Management
Oversee documentation of application structure and processes in CommCare
Create and maintain data dictionaries for all CommCare applications.
Collaborate with Headquarters to design and implement templates and processes for application builds and updates.
Recommend logical design and process improvements that can be integrated into future application builds.
Track all issues and exceptions related to CommCare and associated data and discuss with Headquarters regularly.
Term of Employment:
Fixed term (Two years – renewable based on performance and availability of funds). Two years contract will be confirmed after his/her performance during the 45 days probation period is found to be satisfactory.
Job Requirements
SPECIFICATIONS:
The minimum required academic and professional skills for the jobholder to perform successfully in their position include:
First degree in technical field (such as computer science, IT, engineering, Statistics, etc.) from a recognized university
Proven three to five or more years of experience in relevant field
Excellent understanding of and experience with databases and data management functions including collection, exception tracking, cleaning, standardization, integration, analysis and distribution
Strong analytical and organizational skills
Some coding experience strongly recommended
Extremely detail-oriented with high levels of accuracy
Able to work quickly, under pressure, and to deadlines
Proficient in all Microsoft Office products, including strong proficiency in Excel.
Self-driven, extremely organized, and able to deliver results with minimum supervision.
Good team spirit
Applying Instructions
Interested applicants are invited to send their application to the Finance and Administration Department within 10 consecutive days via:
E-mail:  addis@glimmer.org
P.o.Box: 1448 code 1110
Application Package:
Curriculum Vitae (CV)
Application cover page
Copy of credentials
Applicants shall submit a portfolio of work samples
Please kindly note that only short-listed candidates will be contacted at all stages of the selection process
WARNING: Do not to pay any money to get a job. Please report fraudulent jobs to info@newjobsethiopia.com