Enterprise Development Lead for Enabling Ethiopia (EE) Project
Description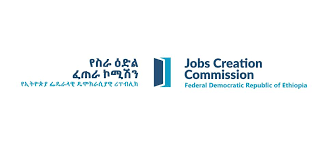 POSITION TITLE:  Enterprise Development Lead for Enabling Ethiopia (EE) Project
DEPARTMENT:  Innovative Jobs and Projects (IJP) Director Team
REPORTS:  Innovative Jobs and Projects Director on general functions and operations of the Directorate and to the Innovative Jobs and Projects Senior Manager on all activities related to the Enabling Ethiopia Project.
_____________________________________________________________________________________
The Jobs Creation Commission of the Federal Democratic Republic of Ethiopia is established under the Office of the Prime Minister to advance the government's goal around employment and job creation as per proclamation 1097/2018 which determines the powers and duties of the executive organs. Subsequently, the regulation 435/2018 promulgated by the Council of Ministers mandated the commission with the authority to govern and coordinate the jobs creation agenda at the national and sub national levels.
The Jobs Creation Commission has set a clear goal of creating 3 million jobs by 2019/2020, 14 million by 2025, and 20 million jobs by 2030 through guiding the investment of government, the private sector and development partners to high-growth sectors and implementing innovative programs and targeted policy interventions in the labor market to align skills development with market needs and incentivize and support entrepreneurship and enterprise creation. In accordance with its operational mandate, the Jobs Creation Commission is organized in five departments that include Policy and Strategy, Partnerships and Investments, Data & Analytics, Innovative Jobs & Projects, Delivery Assurance and Capacity Building teams. Accordingly, the Enabling Ethiopia (EE) project is one of the initiatives in achieving the above stated goals.  The successful candidate joins a team during its takeoff and have a unique chance to shape and empower from the very beginning. Ultimately the role will be an opportunity to ensure the success of an organization and delivery of a program that is a crucial component in the future of Ethiopia.
 JOB SUMMARY:
The Enterprise Development Lead for EE project will have the unique opportunity to actively contribute to the job creation agenda and the economic development of Ethiopia. He or she will be in the middle of managing a wide range of initiatives, activities and programs within the Commission. The Enterprise Development Lead will have the prospect to shape the business operating environment, ensuring the jobs and livelihoods for millions in the labor market.
SPECIFIC DUTIES AND RESPONSIBILITIES:
 Job Responsibility #1: Planning and Management
Prepare monthly, quarterly and annual and long-term plan of IJP Team in line with the EE project activity plans
Review the existing and new Micro, Small & Medium Enterprises (MSMEs) policies and directives in the pipeline and design strategic goals and outputs for supporting enterprises through existing JCC programs and initiatives
Lead the implementation of strategies and interventions in National Plan of Action for Job Creation, under the umbrella pillar, "Transform the business ecosystem to build vibrant and growth oriented MSMEs":

 Designing a more effective policy,
Improving the quality of Business Development Support,
Upgrading the access to finance,
Improving local value chains through horizontal and vertical integration,
Improving the competitiveness and access to technology for MSMEs,
Improving the business environment for MSMEs

Liaise with the Ministry of Innovation and Technology and active businesses to ensure that current initiatives to build a strong "startup" ecosystem in Ethiopia delivery according to plan optimizing on jobs creation
Develop an appropriate training packages for enterprises at different levels focusing on Business Development Support working closely federal and regional agencies with the mandate to support MSMEs
Map all key players in the enterprise development support ecosystem in Ethiopia including federal and regional government agencies, development partners, private players and develop a living document to be made available for public consumption
Organize various coordination platforms among enterprise development support ecosystem players and ensure alignment across activities and appropriate allocation of funds and support to enterprises nationally.
Analyze, periodically, surveys and data on enterprise performance in Ethiopia to develop key in insights and inform program design and delivery nationwide
Identify and develop local and international market linkage opportunities, including negotiating with the government procurement agency to secure "quotas" for local MSMEs, horizontal B2B opportunities, vertical value chain linkages, & exposure to international bazaars & exhibitions
Perform deep-dive pilots focusing on Industry Park supply chain linkages ensuring a capable cluster of micro and small business that successfully work manufacturers in the park.
Execute monthly ,quarterly semiannual and annual reports  within the scope of his/her team and work in collaboration with other project team and stakeholders.
Job Responsibility #2: Staff Management
Direct, lead, guide, support, orient, mentor, assign responsibilities and control staff responsible to him/her to ensure that they are appropriately motivated and trained to meet all unit targets and that they carry out their responsibilities to the required standards;
Ensure that skills and knowledge are properly transferred to the staff of JCC under his/her supervision
Job Responsibility #3 Monitoring, Evaluation, Networking
§  Monitor the timely execution of planned activities and budget relating to the EE Project as well as the IJP directorate along with monitoring the effectiveness and efficiency of the team coordination with other teams and units in JCC.
Engage with stakeholders, build networking and share networking resources within the scope of the responsibility of the Innovative and Project team.
Job Responsibility # 4 Reporting
Submit on his/her weekly plan and weekly personal performance reports
Prepare and submit performance reports on a quarterly basis with regards to the EE Project and IJP directorate, in addition to weekly and monthly planning and performance reports which may be required by the team director, the Commissioner's Office and Innovative Jobs and Projects Senior Manager.
Job Responsibility #5: Others
Collaborate with other project team members and JCC staff.
Execute other activities assigned by the Commissioner, team Director and EE Project Manager
Job Requirements
Education/Training
BA degree or Master's Degree in Business Administration, Economics, Marketing, Entrepreneurship and/or another relevant field of study
Experience
At least six years of experience  (for Bachelor' Degree) / four years (for Master's Degree) of relevant experience required
At least 5 years of experience in business development working directly working in enterprise creation and support
Considerable knowledge of sound enterprise business policies, procedures including range of business support services such as business, financing, sales and marketing;
Understanding of range of enterprise business opportunities supporting business start-ups and business expansions
Demonstrated interest and experience in the development sector or public sector
Experience in the private sector preferably as an entrepreneur a plus
Highly collaborative management style and demonstrated success in managing and developing high-performance teams, including a clear passion and talent for training, coaching, and capacity building
Stakeholder and people management skills with evidence of work with senior management
Values, Technical and Other Skills
Innovative, Excellence, Ownership  and Collaboration & team building skills
Strong stakeholder and people management skills
Excellent written and verbal communication, in Amharic and English.
Ability to thrive in a fast-moving, start-up environment
Applying Instructions
Interested applicants should send non-returnable C.V., application letter outlining how their experience and education fit this vacancy in the  email address :
jcc-hr@jobcommission.gov.et and hr@targetethiopia.com   ( please note that the application should be sent in both  email address)
Your application letter/cover letter must include the following information.

Name of the position you have applied for
Summary of  your qualifications and experience
Motivation/objective of why you have applied for the job
Please include at least 3 references from current and former supervisors

Please note that no need to submit your supporting document at this stage.
Only short-listed candidates will be contacted.
WARNING: Do not to pay any money to get a job. Please report fraudulent jobs to info@newjobsethiopia.com