Eye Center – Operations Manager
Description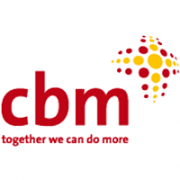 Christoffel Blindenmission (CBM) is an international Christian development organisation. CBM envisages an inclusive world in which all people enjoy their human rights and achieve their full potential. CBM's aim is to contribute to transformative change in structures, systems and attitudes which will bring about an improved quality of life for people with disabilities living in poverty, their families and their communities. Based on its Christian values and over 100 years of professional expertise, CBM addresses poverty as a cause, and a consequence, of disability, and works in partnership to create a society for all.  CBM is a child-safe organization and promotes safeguarding of adults at risk as well. CBM is committed to keeping children safe globally from abuse, through awareness raising, prevention, responding and reporting, as well as through the implementation of CBM Safeguarding Policy. All CBM staff members are strictly required to comply with the Code of conduct. CBM opposes and does not act as a willing party to wrongdoing, e.g. corruption, bribery or other financial impropriety, safeguarding abuses, personal misconduct, or illegal acts in any of its activities. CBM has a clear policy for prevention of Fraud and Corruption and all CBM staff members are strictly required to comply with it.
Core Purpose
Act as a focal person on behalf of CBM Ethiopia Country Office (CO) in all tasks linked to the establishment of the Eye Health Center, from its inception until proper functionality. Working closely work with the international consultant of the project, the inclusive eye health initiative and the CO to organize and oversee the quality of services and daily activities of the facility. The job holder will be expected to manage staff and budgets, communication between departments, and ensure adequate patient care amongst other duties.
Main Tasks
Facility set up
Identify the building and get all the required Government approvals and licences, to utilize the building for the eye hospital purpose, renovation plan approvals, etc.
Appoint an in-charge person locally to oversee the renovation and to be in touch with the consultant & architect.
Tendering, selection of contractor, payments to contractor, etc.
Redesign and carry out the renovation work as per the design provided by The Consultant's architect.
Seek Government or medical council approvals as applicable for the set up of the hospital
Human Resources Development
Coordinate recruitment, selection and screening process of the key employees to facilitate setting up of the eye centre, in liaison with the CBM focal person and the external consultant.
Set up policies and tools to manage employees at the Eye Center, as guided by national laws and CBM standards.
Support to the engagement of key stakeholders in the process, as well as training and compliance with policies
Facilitate applicable government or medical council approvals for the operations by the technical teams from outside the country, as applicable.
Facilitate all project's logistics, including air tickets for international personnel travelling to Ethiopia.
Procurement
Lead the procurement process of equipment required to operate the Eye Center, in liaison with the Ophthalmologist and the consultant.
Coordinate installation of the equipment in the Eye Center
Identify contractors who would oversee due maintenance of equipment.
Procure IT hardware, software and internet connectivity to the Eye Center, as guided by the specifications
Visioning Exercise & Pre-Launch Details
Coordinate the development of the process and protocol documents of the Eye Center engaging with key stakeholders, having participated in the vision building workshop.
Coordinate training of key staffs as required for the success of the launch of the Eye Center.
Operations
Share monthly reports on Patient care & Finance management to all the stakeholders.
Participate in the monthly discussions with CBM and the technical team
Preparation for audit process, following up on any actions agreed during the audit meetings.
Staff line management
Manage and coach the staff under direct line management.
Model and promote positive behaviour with team members, including the inclusion of persons with disability in the Eye Center.
Participate as required in the response to the various forms of misconduct as guided by applicable policies
Travel activities : yes
Responsibilities and Authority
Actively participate as a member of the Senior Management Team in the Eye Center.
Carry out role-specific responsibility to safeguard children and adults at risk (as guided by CBM's respective policies) in programmes and enforce this with any colleagues and partners
Reports to: Country Director
Job Requirements
Requirements
i.e. education, professional experience, languages, methods, competencies, personality traits…
Relevant Master University Degree in project management, business administration, public health or related field.
Professional experience of 5 years in a national or international NGO with a track record in successfully managing inclusive development and/or humanitarian programmes in collaboration with national partners.
Ability to prioritize work and meet deadlines.
Experience in managing institutionally funded projects, including consortium led projects.
Experience in setting up private business & services in the sector of health
Experience in evaluation and strengthening of quality and effectiveness systems
Proven experience in results-based management and project cycle management, including assessment, monitoring and evaluation, with a sound understanding of budgeting and programme finance management.
Demonstrated experience in managing internal and external relationships and partnerships particularly with national / local governments.
Experience in working with various government/bi-lateral/major institutional donors.
Proven good organizational and coordination skills as well as a high level of autonomy and flexibility.
Perform duties under minimum supervision
Ability to work diplomatically and with sensitivity with individuals from a variety of cultures, professions and personal backgrounds.
Advantage of lived experience with disability.
Experience of working with persons with disabilities or promoting disability rights a distinct advantage.
Commitment to CBM's mission, vision and values
Applying Instructions
Candidates with the required profile and proven experiences, who meet these qualifications, are invited to submit via e-mail, a meaningful letter of motivation, stating why he/she wishes to work for CBM, CV, three professional references and salary expectations to:
By email to info.ethiopia@cbm.org
Office telephone: +251 116 629703/06/08
Only Candidates who meet the required profile and have a proven experience will be included in the long list, while others will be automatically disqualified.
CBM encourages persons with disabilities who qualify to apply for this position.
Only short-listed candidates will be contacted.
WARNING: Do not to pay any money to get a job. Please report fraudulent jobs to info@newjobsethiopia.com