Finance & Administration Officer (Re-advertisement)
Description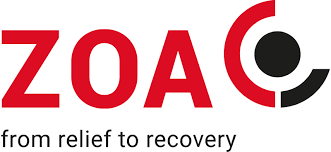 About ZOA
ZOA works with committed and motivated staff in serving millions of people affected by poverty, disaster, injustice and conflicts. Through the efforts of our dedicated staff, we are able to bring Signs of Hope and to support people who suffer due to armed conflict or natural disasters by helping them to rebuild their livelihoods.
We value our employees and offer a wide range of benefits to meet the specific needs of our staff and their families. However, ZOA has a zero tolerance towards violation of safeguarding policies like Child Protection & Protection from Sexual Exploitation and Abuses.
Because ZOA highly values Integrity, we also expect all colleagues to sign up for and adhere to our Code of Conduct. As part of its recruitment process, ZOA carries out rigorous background and reference checks for all candidates, which will include checking government sanction lists and possibly criminal records. As ZOA also participates in the Inter-Agency Misconduct Disclosure Scheme, all reference checks include a written questionnaire, the "Statement of Conduct", which will be sent to past employers regarding Misconduct (such as sexual exploitation, abuse or harassment). This Statement of Conduct adopts the definitions used in the Scheme. The provision of references by ZOA will be subject to the Scheme as well.
Purpose:
The Admin and Finance officer who will be based at Harar will be responsible to ensure that all financial and administrative activities are implemented in line with ZOA finance, Administrative and procurement policy and procedures. Besides, he/she is responsible for the overall administrative activities in consultation with the field coordinator in the area that aimed to achievements on program intervention.
ESSENTIAL RESPONSIBILITIES AND DUTIES:
Planning:
Assis Program Staff in budget planning, budget utilization and budget revision.
Monitor & provide the necessary advice on the utilization of budget as per the plan
Take active part in the annual work plan, and participates in team meetings on project progress review and staff development plan
Provide advice to program staff on procurement plan for timely delivery
Administrative Management:
Follow up and advise the Field office coordinator for the necessary action on new government policies/laws that have implications on the program, administration and human resource management.
Plan & follow up human resource development.
Ensure that all ZOA's administrative and finances guidelines are adhered to by all staff.
Ensure the efficient recording and management of ZOA's property through the annual reports and regular updating of asset inventory.
Provide support on financial & administrative matters to program staff.
Update personnel files and other records.
Supervise and provide supports in procurement and related activities.
Follow up logistic arrangement as required to other consortium members in the area.
Ensure adminstrative activities are executed to smooth working relationship with other consortium members in the office
Ensure all required utility & internet services are available in the compound for all partners
Assist the cashier and secretary staff on her/his duties in the office
Facilitate/liaise  office coordination and collaboration with the surrounding stakeholders, including local government, related to program implementation
Manage the staff, cashier secretary and guards, performance and ensure their compliance with ZOA HR policies
Perform any other additional adminstrative assignments as required
Financial Accounting, Reporting, and Control:
Perform quality reviews and analysis of monthly, quarterly and annual financial reports related to specific projects
Perform comprehensive reviews of financial reports to include performance analysis in the following areas: balance sheet, income statement, cash, grants/contracts, unrestricted and general contributions, actual expenses vs. budget, forecasting and budgeting, adequacy of adherence to generally accepted accounting principles and ZOA's financial procedures;
Provide ongoing feedback to the field coordinator to improve effectiveness in ZOA field office financial management
Support the field Office in financial management of projects, including cash management, budgeting and forecasting, as well as implementing responses to audit findings and trouble shooting in finance and accounting;
Provide assistance to the field office in the preparation of their operational and donor budget and forecasting;
Ensure that all financial records and backup documentation are archived according to ZOA's procedures and readily available for audits;
Assist in preparation and review donor financial reports for submission;
Provide support for statutory and project-based audits;
Assess Regional Office staffs' ability to perform satisfactorily in financial management and to meet ZOA performance standards
Ensure all Regional Offices have updated copies of ZOA policy and procedures.
Job Requirements
 Competencies, Qualifications and Experience:
BA degree in Finance and Accounting from a recognized institution
At least five years work experience related to Finance and Administration.
Experience on consortium funds management is advantageous
Ability to operate in a cross-cultural environment requiring flexibility;
Familiarity with the aid system, and understanding of donor and governmental requirements;
The candidate must be detail-oriented and able to work independently;
Strong interpersonal and communication skills; experience in effectively communicating key data, including presentations.
Sufficient Knowledge and proven skills of using financial computer system software & programs
Flexibility and the ability to thrive in a fast-paced environment;
Intermediate to advanced software expertise (Excel and accounting software);
Excellent interpersonal skills and the demonstrated ability to lead, build and work effectively in team situations;
Experience in organizational representation, and liaison;
Cultural sensitivity and proven experience in working in Ethiopia with international NGOs;
Excellent conceptual, planning, organizational and time management skills;
Excellent communication, negotiation and problem-solving capacities;
Fluency in English and Amharic (written and spoken);
Strong IT Skills and knowledge;
Applying Instructions
If you are interested in this position, please apply via ethiojobs.net by sending your CV and a motivation letter indicating your suitability for this position to before the due date
Please provide at least 3 references related to your previous employment listed in your CV or motivation letter.
Only selected candidates will be contacted and invited to participate in the process of recruitment. It is our aim to inform candidates of their status in the recruitment process within 4 weeks after the vacancy has closed. A written test will be part of the recruitment procedure. Documents that do not match the profile above will not be considered. Internal candidates will have priority, in case of similar results.
WARNING: Do not to pay any money to get a job. Please report fraudulent jobs to info@newjobsethiopia.com