Description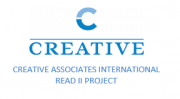 Creative Overview:
Creative Associates International is a dynamic, fast-growing global development firm that specializes in education, economic growth, democratic institutions and stabilization. Based in Washington, D.C., Creative has a field presence in more than 25 countries with a strong client portfolio that includes the U.S. Agency for International Development and the State Department, among others. Since its founding in 1977, Creative has earned a solid reputation among its clients and is well-regarded by competitors and partners alike.
Program Overview:
The five-year READ II project, funded by USAID, will boost the quality of literacy instruction and student support, reaching out to children at risk of failure and dropout caused by cognitive, emotional and physical effects of hunger, violence, and displacement. READ II seeks to better equip teachers with effective early grade reading instruction techniques and materials in seven mother-tongue languages and English, while simultaneously building a culture of reading in the school, home and community.
THE CREATIVE WAY EARLY CHILDHOOD EDUCATION CENTER
Early Childhood Education (ECE) teachers are eager participants in the growth and development of children. They are caring and supportive of children and enjoy playing with and guiding children to explore, discover, and learn.
Position Purpose:
The Head Teacher will be responsible for the day-to-day operations of The Creative Way Early Childhood Education Center in Addis Ababa, Ethiopia.  She will guide the daily planning of activities for the children, as well as for the other ECE teacher, and School Assistant.
Key Responsibilities:
Being the "face" of the Creative Way Early Childhood Education Center in Addis Ababa, Ethiopia.
Communicating on a regular basis with the designee at Creative's Headquarters.
Utilizing the Creative Way ECE Toolkit to guide the Center's curriculum, assessment, and all other activities.
Conducting initial development assessments of each child and prepare a progress report of each child, to be completed on a quarterly basis and shared with parents.
In general, the Head Teacher and all other teachers at the Center will have, as part of their daily routine, the responsibilities to:
 Provide a wonderfully dynamic learning environment for the children;
 Facilitate children's interaction with others;
 Allow children to be creative; and
 Provide children with a safe and caring environment to learn and grow.
Specifically, the Head Teacher and other teachers will be responsible for:
Preparing daily lesson/activity plans to guide the children's activities on a course for increased knowledge and abilities;
Preparing for creative activities to ensure that all supplies and materials are available when needed;
Ensuring a safe play/learning environment, both indoors and out, through daily inspection of facilities, furnishings, toys, and equipment;
Catering to the basic needs of the children – feed them, serve them water, and assist with their bathroom needs – in a comfortable and nurturing environment;
Monitoring each child's development progress; and
Meeting with the parents of the children to discuss their progress and gain insight into how the child is developing/growing in their home environment.
The Creative Way teachers will be responsible for introducing children from the ages of 3 to 6 into the world of organized schooling. The teachers will use a variety of educational methods, including storytelling, creative play, songs, problem solving, self/group exploration, and formal instruction. The teachers must be creative, open- minded, flexible, kind, caring, and supportive. They must easily communicate with children and understand their educational and emotional needs. They must be organized, patient, dependable, resourceful, and creative.
Job Requirements
 BA degree in education or related field.
 At least 5 years of relevant work experience (teaching preschool-age children) and 2+ years of supervisory experience.
 Good at managing things from the teaching perspective with some elementary teaching experience.
 Must have proven organizational skills and good leading skill with prior experience in managing staff.
 Fluency in English is desirable.
Applying Instructions
Creative invites eligible candidates to submit their applications via recruitment@readethiopia.com on or before December 6, 2019. Please make sure to indicate the JOB TITLE you're applying for in the subject line of your email. Female candidates are strongly encouraged to apply. Applications should consist of a one-page cover letter and updated curriculum vitae a maximum of three pages with 3 professional references, the persons' telephone number & email address.
WARNING: Do not to pay any money to get a job. Please report fraudulent jobs to info@newjobsethiopia.com