Description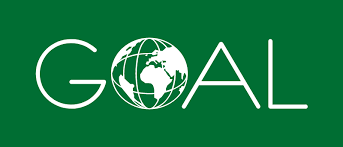 GOAL's mission is to work with the most vulnerable communities to help them respond to and recover from humanitarian crises, and to assist them to build transcendent solutions to mitigate poverty and vulnerability.
GOAL is a non-for profit organization that has been working in Ethiopia for over 30 years across all the region of the country towards ensuring the poorest and most vulnerable in our world and those affected by humanitarian crises have access to the fundamental rights of life, including but not limited to adequate shelter, food and livelihoods, water and sanitation, nutrition, healthcare and education. GOAL implements a range of multi-sectoral development, resilience, recovery and humanitarian responses Programmes by being sensitive to cross-cutting issues including gender, accountably, child protection, HIV/AIDS.
We envision a world where poverty no longer exist, where vulnerable communities are resilient, where barriers to wellbeing are removed and where everyone has equal rights and  opportunities. GOAL Ethiopia's main donors are Irish Aid, USAID/OFDA, EHF, ECHO and other private donors.
The HR officer (HO) is responsible for the overall human resource management activities including recruitment, staff benefit administration, handling HR correspondences, processing staff termination, staff payroll administration, maintaining HR documentation, providing information to & guiding staff in relation to elements of the HR Manual, work towards the proper implementation of the HR Manual, follow up expat administration, involve in staff training and development issues and liaising with HR focal persons in programme office level with regards to the above-mentioned HR issues.
HR Officer is expected to work in close collaboration with Programme and support staff in field and Head Office. S/he will be expected to have a functional support and supervisory role to the Admin and HR focal persons in field office level in guiding, directing, capacitating and following up on their performance and delivery of the required out put together with the line Managers.
Job Requirements
Do you want to join an exciting organization that brings high level impact to the community and add value to your professional advancement?  Then join us if you have:
·         Diploma/BA in HRM, Business/Public Administration, Management or related field.
·         with a minimum of 5 years of related work experience for Diploma holder and 3 yrs. experience for BA holder
·         work experience as HR officer or similar post
·         Ethiopian National or Residence ID
·         General management/administration skills
·         Very good human relation skills, ability to explain
·         Very good planning & organizing skills, very good orientation to detail
·         High commitment to maintain an up-to-date and efficient HR information and record keeping system
·         Adherence to the requirements set by the HR Manual and donor guidelines
·         High commitment to confidentiality
·         Good team player, flexible and capable of working with an international country team.
·         The work requires 30% of travel to the field including to the very remote sites.
·         Ability and willingness to travel to locations outside Addis Ababa.
·         Good computer skills, including familiarity with Microsoft Word and Excel.
·         Sensitive to cross cutting issues like gender, HIV/ADIS, child protection and accounting and Gender.
·         Team oriented, flexible and creative approach; keen to take initiative where appropriate.
·         Accountability & responsiveness within areas of responsibilities
Desirable qualities, skills and competences:
·         Work experience in NGO Sector
·         Experience in working for an organization with significant number of staff and filed offices.
·         Masters in HRM or related fields.
·         Training in HR related areas.
·         Know how of local language
Note: This description is not an exhaustive list of the skill, effort, duties and responsibilities associated with the position.
REMUNERATION and BENEFITS:
GOAL will pay a competitive basic salary based on the salary grading with addition benefits.
A chance to develop tangible experience.
Being part of a team who continue to make a real difference to the lives of the most vulnerable people.
Applying Instructions
COMMITMENTS: 
GOAL's recruitment procedure is fair and transparent which is also in line with the organization's commitment to its integrity, honesty and culture. GOAL is committed to ensure that, its performance complies with the terms and conditions of relevant agreements, applicable laws & regulations. Hence, pre-employment background checks will be conducted, and employees are required to read, understand, sign and implement different polices including safe guarding and child protection policy, Protection from Sexual Exploitation and abuse policy, sexual harassment policy, code of conducts and any other policy, rules and regulation of the organization.
GOAL is strongly committed not to harm the people under its care.
APPLICATION PROCEDURE:
Interested and qualified applicants need to submit ONLY once their non - returnable CV & Application Letter for one vacancy. The vacancy reference number along with the title need to be written in the application letter and/or subject of the email. Applicants can Only apply using the following option.
Applicants who have access to the internet can directly apply on line using www.ethiojobs.net
GOAL strongly encourages female candidates to apply!
Only short-listed candidates will be contacted for an interview and exam.
Shortlisted candidates will need to submit other supporting documents upon request at later stage.
GOAL is not able to contribute towards any costs incurred by candidates during the recruitment process.
WARNING: Do not to pay any money to get a job. Please report fraudulent jobs to info@newjobsethiopia.com