Junior Anesthetist/Anesthesia Technician/Nurse Anesthetist
Description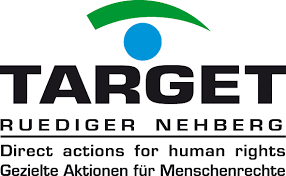 In cooperation with the German Professional Association of Gynecologists, the TARGET Higher Obstetrics Speciality Clinic opened its doors in June 2015 in Afar region at the border of Tigray, and tries to address the medical problems of genitally mutilated girls and women (FGM I to III) as well as emergency obstetrics, which is especially acute in remote regions such as the one of our clinic. In Afar, 91.6 per cent are mutilated, with the majority having undergone FGM Type II and III. This poses great risks for girls and women, in particular during labor.
Our clinic is equipped and designed according to European standards. In addition to gynecological and obstetrics care, emergency procedures such as caesarean sections and minor obstetric and gynecological surgeries incl. defibulation of FGM Type III are also undertaken. Currently we have about 35 births and an average of 2 cesarean sections a month, with these figures set to increase further in future. We aim to increase the number of defibulations in particular as well as improve our FGM consultations in the clinic.
The clinic is operated through a national team of anesthesia-technicians, nurses and midwives, a pharmacist, laboratory technicians, a gynecologist, an IESO , a gynecologist as well as a German technician. Regular visits of European volunteer gynecologists, midwives, nurses and anesthesiologists are furthermore supporting the national team and provide training. TARGET Human Rights Organization has already established a strong presence in the region for more than a decade, working closely with Islamic and Clan representatives in the region. TARGET intervenes without any affiliation to politics, religion or financial profit.
The junior anesthetist/anesthesia technician/nurse anesthetist provides treatment and care for both adult and neonatal patients of the clinic. He/ She will collaborate with the national and international nursing colleagues, medical and technical personnel, to deliver the highest possible standards of care and treatment.
Duties of this Position
Coordinate the OR with acting gynecologist or IESO, coordinate with pharmacist for OR and emergency treatments
Perform various forms of anesthesia such as spinal, intubation and regional anesthesia
Perform pain therapy for patients
Prepare preoperatively and acquire all necessary lab results for proper surgical patient handling
Premedication (e.g. preoperative calming of patient, gastric acid reduction, gathering risk history of surgical patient)
Correct positioning and ventilation of surgical patient
Monitor postoperatively and prevent thrombosis in surgical patients
Perform nursing and first-aid duties for regular patient-service as required incl. ambulance car service for referral patients and incl. neonate-patient services
Translating Afar-English for international staff as requested
Maintain a sterile environment in the OR and respective pharmaceutical storage
Maintain daily and clean all instruments and perform quality control of machines and all equipment
Assist with orientation of new staff
Ensure safety for patients and colleagues
Participating in any duties involved with the care of patients, and the smooth running of the clinic and project implementation, which are not specifically laid down in the job description, or any duties you may  be  required  to  carry  out  as requested  by  the  Nursing Coordinator,/Medical Coordinator/Acting Gynecologist/Project Coordinator.
Department/Project/Duty Station/Country
TARGET Higher Obstetrics Speciality Clinic in Farras Dagge, Konnaba Woreda, Afar Zone 2, Ethiopia
Our Offer
You can expect a varied, challenging job in a committed team from which you will learn a lot. The net salary will be around ETB 7,494.40 to the net salary incl. hardship allowance will be around ETB 10,608.00 .You want to work with us against the cruel practice of FGM? Send your application comprising your CV with two reference letters incl. that of your latest work and a motivation letter with the earliest job entry date, explaining why you want to work in our clinic and what your professional future should look like. Please also attach your OR track record.
Employment: staff (Permanent)
Location / Work Place: Konnaba Woreda, Afar Zone 2
Job Requirements
Qualifications
Valid Ethiopian ID
Anesthetist(or equivalent degree or diploma) and current registration on the respective professional register of Ethiopia (professional license)
Min. 2 years' continuous professional experience in a similar clinical setting with OR; 1-2 work experience certificates incl. latest job
Proven written OR track record is desirable;
Experience with International Organization or NGO is an asset;
Personal Skils
Excellent self-motivation and commitment; availability to work flexible times (including evening and night)
Precision, punctuality and honesty
Knowledge of Afar language is necessary; good command of English
Strong interpersonal and communication skills for optimal patient care are required
Commitment to excellence and customer service
 Willing to work at unsocial work hours and with sudden changes in work schedules
Applying Instructions
Ms .Axumawit Fitsum
Kindly use 'Junior Anesthetist' as reference for your email. Application deadline is 15 August 2021 (midnight).
While we appreciate all applications, only shortlisted candidates will be contacted. As this is a rolling application, we reserve the right to hold tests and interviews prior to the application deadline.
WARNING: Do not to pay any money to get a job. Please report fraudulent jobs to info@newjobsethiopia.com