Description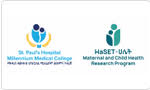 We are seeking to appoint a full-time Lab coordinator to be based in Debre Birhan, with frequent travel to the field site located close to Debre Birhan and Shewa Robit towns, to support the HaSET Maternal and Child Health Research Program and its sub studies in the BIRHAN field site. HaSET is a collaboration between St. Paul's Hospital Millennium Medical College, the Ethiopian Public Health Institute, and Harvard University. The post holder will be an integral part of the HaSET team and coordinate the laboratory activities for HaSET, he/she will be responsible for managing and tracking laboratory related program activities.
St. Paul's Hospital Millennium Medical College, Addis Ababa, Ethiopia
The Medical School opened in 2007; it is intended to alleviate the severe shortage of medical doctors in the country. In line with various encouraging efforts performed by the Ethiopian Federal Ministry of Health in this regard, it is clear that the newly opened school, with a practical modular and integrated curriculum will be providing much-needed medical professionals to the people of Ethiopia.
Harvard University, USA
Harvard University traces its roots to public health activism. The faculty commits themselves to research as well as teaching. The University produces knowledge through research, reproduces knowledge through higher education, and translates knowledge into evidence that can be communicated to the public, policymakers, and practitioners to advance the health of populations.
HaSET Maternal and Child Health Research Program
The HaSET ("happiness" in Amharic) Global Maternal and Child Health Research Program generates evidence to improve maternal and child health programs and policies. Within the HaSET research program are several nested sub-studies, including the Antenatal Care/Postnatal Care Research Collective (ARC) and the BIRHAN Maternal and Child Morbidity and Mortality Surveillance program, aimed at understanding the causes of maternal and child morbidity and mortality in Ethiopia. Research takes place at the BIRHAN field site in North Shewa Zone, Ethiopia. The BIRHAN and ARC studies are a joint partnership between St. Paul's Hospital Millennium Medical College in Ethiopia and Harvard University.
PRINCIPAL DUTIES AND RESPONSIBILITIES
The post-holder will work full-time in Debre Birhan. The position requires regular interaction with the investigators, facility and community data collectors, sample transporters, research manager, clinical research coordinator, catchment facilities and reference laboratories in the field. The post-holder will be responsible for developing and maintaining HaSET's sample collection, transportation, laboratory logistics, investigation and result sharing system in collaboration with the field team and other HaSET staff members. The post-holder will also closely collaborate with and mentor Debre Birhan Hospital and other research site facility laboratory staff to build capacity in new diagnostics. NB: To minimize exposure during the COVID-19 pandemic, HaSET staff are working primarily from home with limited field activities; regular office attendance will resume when risk is reduced.
KEY RESPONSIBILITIES
Develop and implement the field and lab SOP with high quality.
Support and mentor field supervisors, train the field staff in sample collection, labeling and transportation.
Ensure the availability of all sample collection accessories at the collection site by communicating with field supervisors.
Build relationships with Debre Birhan hospital and laboratory management, as well as health facility management, to ensure support for lab and diagnostics capacity strengthening.
Ensure functionality of laboratories through a collaborative work with catchment facilities.
Ensure the continuous functionality of the field reference laboratory in collaboration with the reference facility
Spearhead the introduction of new diagnostic tests to be conducted and processed at the field reference laboratory in line with project objectives.
Mentor Debre Birhan Hospital laboratory staff and provide training and supervision.
Provide any technical support and consultation before, during and after sample collection.
Follow and support field supervisors to collect and transport samples according to the defined standards.
Ensure that collected and transported samples are labeled and have correctly filled accompanying questionnaires.
Ensure that all collected and transported samples are delivered to a central laboratory on time.
Review laboratory results and share to relevant stakeholders
Notify the specimens which will be going to be rejected at the central lab to the field team.
Oversee all the laboratory diagnosis activities and make sure all the laboratory procedures are conducted according to the standardized protocol.
Uphold high quality control and quality assurance in the data and laboratory specimens collected by performing QC/QA activities.
Document study progress and update the team (training, challenges, and decision logs).
Prepare and compile laboratory and field data and reports regularly to the investigators and research team
Manage and update laboratory related study work plan.
Perform any additional tasks that are requested by the principal investigators
This job description reflects the present requirements of the post but may be altered at any time in the future, as duties and responsibilities change and/or develop providing there is full consultation with the post-holder. The post-holder will carry out any other duties, tasks or responsibilities as reasonably requested by PI and investigators.
No. of posts: 1
Duration of contract: 1 year with likely extension
Job Requirements
PERSON SPECIFICATION
Essential requirements
Masters Degree in Microbiology/MSc thesis in the fields of clinical microbiology or related, Masters Degree in Epidemiology specializing in/ MSc thesis in surveillance or related background of clinical microbiology, or Masters Degree in Public Health
BSc degree in Medical Laboratory Technologist or related specialty
At least three years proven experience in Basic Diagnostic Microbiology Tests,
Two or more years proven experience in leadership position in coordinating surveillance, or Two or more years proven experience in leadership position in project coordination or similar role
Qualified in report writing (evidences required)
Preferably has experience and willingness to get engaged in field activities in the regions
An ability to prepare and interpret flowcharts, schedules and step-by-step action plans
Solid organizational skills, including multitasking and time-management
Strong client-facing and teamwork skills
Familiarity with risk management and quality assurance control
Excellent verbal and written communication and presentation skills with ability to communicate effectively with technical and non-technical people
Applying Instructions
The subject of your email must be "Appln: HaSET Laboratory Coordinator"
The file name of your cover letter should be in the format [YourName_CoverLetter]
The file name of your CV should be in the format [YourName_CV]
Closing Date:     Within 10 working days of the announcement of this vacancy
Only short-listed candidates will be contacted
WARNING: Do not to pay any money to get a job. Please report fraudulent jobs to info@newjobsethiopia.com