Partnership and Investment Advisor
Description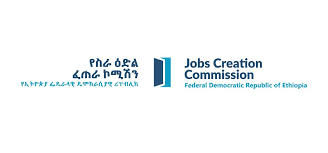 Presentation of the Job Creation Commission
The Jobs Creation Commission is a new public and central institution established under the Prime Minister office, with a mandate to govern, monitor and coordinate all government and non-government efforts in creating jobs.
The Job Creation Commission works specifically on:
Identifying and designing new job creation opportunities;
Building a coordination-platform for all job creation initiatives in Ethiopia
Developing and implementing sectorial jobs strategies;
Formulating and adopting policies that favour job creation, private sector development and the bridging of skill mismatch in the Ethiopian Labour Market.
The role of the Partnership and Investment Directorate (P&I)
The Partnership and Investment Directorate is a highly strategic team within the Job Creation Commission and is responsible for creating organizing and coordinating partnership with donors and private sector through planning, optimizing and mobilising resources for job creation in Ethiopia. It is also responsible for aligning resources and funding with the strategic objective of the national job creation agenda.
The main activities within the team are:
Identifying future job creation opportunities and investment needs and priorities
Developing and implementing an engagement strategy for resource mobilization stakeholder's management
Mapping and engaging with key public and private sector actors, donors and philanthropies to mobilize resources
Identifying necessary reforms for maximizing resource mobilization from the private sector
Designing a sustainable resource mobilization strategy and key initiatives
Exploring and implementing innovative financing mechanisms that can facilitate job creation in Ethiopia
Other duties will be given by the partnership and investment director.
About the role
The Commission is looking for an exceptional leader, to serve as a Partnership and Investment Advisor, with a strong ability to build trust/relationships and to operate in a dynamic and challenging environment. The candidate will have a unique opportunity to stimulate donor funding, private sector investment, strategic public budget allocation in Ethiopia, and to actively contribute to the economic development of Ethiopia.
The P&I Advisor will report to the P&I Director and is responsible for
Proactively soliciting and mobilizing resources from donors, private sector and philanthropies to support job creation
Lead the overall grants management of the JCC, developing concept notes, proposals and budgets
Strongly support P&I Manager and P&I Director in managing strategic partnerships with development partners and private sector
Developing and updating a Labor Market Resource Mapping of donor contribution and private sector in Ethiopia.
Proposing strategic and high-level policy reforms that aim to maximize private sector investment and resource mobilization
Coordinating with other public institutions, agencies and state-owned enterprises to guide strategic investment to catalyze job creation
Identifying, developing and implementing innovative financing mechanisms to encourage investment and job creation
Advising the Partnership and Investment Director on resource mobilization and optimization opportunities
Deliver additional tasks as requested by the P&I Director
Review and upgrade the studies so far by the consultant on donor road map strategy and crowdfunding studies.
What the role offers:
The Partnership and Investment Advisor will join an organization driving fundamental change in Ethiopia. A successful candidate will have the opportunity to work across the Ethiopian Jobs Creation ecosystem and have a unique chance to shape and empower the Commission. Ultimately the role will be an opportunity to ensure the success of an organization and delivery of a program that is a crucial component in the future of Ethiopia
Required Number:   One
Contract period:  4 months with a possibility of extension 
Job Requirements
Required qualifications:
Candidates will be outstanding individuals with excellent professional and academic credentials. Of particular interest are candidates with experience and skills including:
Master's or above in economics, development economics, international development, public policy, public administration, public financial management, financing or another relevant field of study
At least six years (for Masters' Degree) / eight years (for PHD degree) of relevant experience required
Specific experience within Government, private sector or development institutions directly working on issues relating to investment, resource mobilization, development financing and job creation would be valuable.
A successful private sector and donor experience would be an asset
Experience managing high-performing teams
Strong quantitative and analytical skills; in addition to stakeholder and people management skills
A creative and entrepreneurial approach to overcoming barriers and the ability to cope in entrepreneurial environments
Excellent written and verbal communication, in Amharic and English Ability to thrive in a fast-moving, start-up environment
Values we look for:
Innovation: always curious, creative and courageous
Excellence: gives his/her best, builds/improves and ruthlessly prioritizes
Collaboration: team player, careful listener and always speaks up
Ownership: accountable, has integrity and is decisive
Applying Instructions
Interested and qualified applicants can apply through Ethiojobs.net
WARNING: Do not to pay any money to get a job. Please report fraudulent jobs to info@newjobsethiopia.com