Peacebuilding Project Officer
Description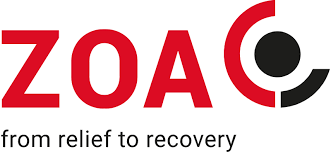 About ZOA
ZOA works with committed and motivated staff in serving millions of people affected by poverty, disaster, injustice and conflicts. Through the efforts of our dedicated staff, we are able to bring Signs of Hope and to support people who suffer due to armed conflict or natural disasters by helping them to rebuild their livelihoods.
We value our employees and offer a wide range of benefits to meet the specific needs of our staff and their families. However, ZOA has a zero tolerance towards violation of safeguarding policies like Child Protection & Protection from Sexual Exploitation and Abuses.
Because ZOA highly values Integrity, we also expect all colleagues to sign up for and adhere to our Code of Conduct. As part of its recruitment process, ZOA carries out rigorous background and reference checks for all candidates, which will include checking government sanction lists and possibly criminal records. As ZOA also participates in the Inter-Agency Misconduct Disclosure Scheme, all reference checks include a written questionnaire, the "Statement of Conduct", which will be sent to past employers regarding Misconduct (such as sexual exploitation, abuse or harassment). This Statement of Conduct adopts the definitions used in the Scheme. The provision of references by ZOA will be subject to the Scheme as well.
Purpose
To ensure high quality and timely implementation and monitoring of ZOA's peacebuilding activities in Gambella Regional State. The post holder will work closely with ZOA colleagues and with the Government Peace and Security office, Sport office, ARRA, UNHCR, and with community leaders to implement a strategy designed to promote community cohesion, conflict prevention, reconciliation and trauma healing at host community and refugee camps level.
ESSENTIAL RESPONSIBILITIES AND DUTIES:
Ensure that all planned activities in ZOA's peacebuilding projects  are implemented and documented;
Conduct consultation and  training workshops, Provide capacity building for  Community Cohesion facilitators, sport coaches,   Regional, Zonal  and Woreda peacebuilding  actors;
Provide support in terms of mentoring, coaching and training community cohesion facilitators and sport coaches for the purpose of strengthening the peaceful coexistence, unity  and reconciliation within and between host Communities and Refugees;
Ensure and monitor the daily activities of community cohesion facilitators and sport coaches
Assist in organizing school peace clubs, peacebuilding dialogues, intergroup reconciliation and sport competition and develop peacebuilding action plans per woreda, refugee camps as well as schools;
Conduct community dialogues, intergroup reconciliation and sport competition at Camp, Woreda, Zone and regional  levels;
Organize at Camp, Woreda, Zone  and regional  levels consultation to agree on strategy and bylaws for implementing action plan from intergroup reconciliation and community dialogues;
Assist in the capacity building and training of youth in conflict prevention and leadership to serve as agents of peace in the counties;
Represent ZOA at relevant functions as may be requested by the line Managers;
 Support and carry out monitoring and evaluation activities for the ZOA  peacebuilding program in collaboration with the senior MEAL officer, external consultants and under the guidance of the Peacebuilding Project Coordinator;
Develop project implementation tools including implementation manual, Project Implementation Plans (PIPs), M&E Plans, procurement plans, weekly/monthly work plans as may be necessary.
Develop appropriate publicity materials like stories, photos and case studies as needed;
Document community and stakeholders' feedback and share with relevant stakeholders for appropriate action.
Ensure that project administration is in order, properly executed and up to date;
Prepare Terms of Reference, monthly report, weekly updates and contribute to donor and ZOA's quarterly reports;
Work closely and maintain positive relationships  with ZOA's partners and  all relevant actors in programme area, to ensure the full implementation of the project;
Participate in all capacity building initiatives, filed assessments, monitoring,  community dialogues, sport competitions as required;
Ensuring that any Safety, Security and Safeguarding concerns are addressed immediately and in line with ZOA Policy.
Performs other related activities as required.
Contacts
 ZOA colleagues;
Consultants;
Partner Organisations;
Project participants;
Government stakeholders; Government Peace and Security office, Sport office, ARRA;
UN Agencies, in particular UNHCR;
Job Requirements
Competencies, Qualifications and Experience:
 Personal qualities of integrity and commitment to ZOA's mission; proactive, hands-on and confident communicator who will work positively and helpfully with programmes and operations colleagues in ZOA Ethiopia
Bachelor's degree in Public administration and Management, Development studies, Peace building security and governance, International relations or related fields;
Minimum of at least three years' experience in working on peace building project, governance issues with civil society;
Experience in projects planning, Implementation, Monitoring, Evaluation and Learning;
Knowledge of the key issues and trends in Peace building and conflict resolution;
Past work experience in Gambella Regional State is desirable;
Ability to work independently as a part of a team to implement the project;
Proven analytical skills and ability to think strategically;
 Fluency in English – written and verbal;
Ability to communicate in local languages is desirable;
Experience in Field data analysis packages;
Effective IT Skills (Microsoft Office);
Planning, narrative and financial reporting skills;
Communication, tact and negotiation skills;
Conceptual understanding of peace building and conflict resolution.
Good knowledge and understanding in demonstrating gender awareness and sensitivity and organization code of conduct;
Ability and willingness to work as a member of the team, with people of different cultural, and religious backgrounds, different gender, and diverse political views, while maintaining impartiality and objectivity;
Strong interpersonal and communication skills; experience in effectively communicating key data, including presentations;
Applying Instructions
If you are interested in this position, please apply via ethiojobs.net by sending your CV and a motivation letter indicating your suitability for this position to before the due date
Please provide at least 3 references related to your previous employment listed in your CV or motivation letter.
Only selected candidates will be contacted and invited to participate in the process of recruitment. It is our aim to inform candidates of their status in the recruitment process within 4 weeks after the vacancy has closed. A written test will be part of the recruitment procedure. Documents that do not match the profile above will not be considered. Internal candidates will have priority, in case of similar results.
WARNING: Do not to pay any money to get a job. Please report fraudulent jobs to info@newjobsethiopia.com