Description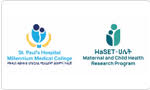 We are seeking to appoint a full-time radiographer to serve as a sonographer for BIRHAN Maternal and Child Morbidity and Mortality Surveillance. This is a collaboration between Harvard University and St. Paul's Millennium Medical College.  The post holder will work to train MCH data collectors, and continuously mentor basic obstetric ultrasounds and implement quality assurance mechanisms.
St. Paul Millennium Medical College, Addis Ababa, Ethiopia
The Medical School opened in 2007; it is intended to alleviate the severe shortage of medical doctors in the country. In line with various encouraging efforts performed by the Ethiopian Federal Ministry of Health in this regard, it is clear that the newly opened school, with a practical modular and integrated curriculum will be providing much-needed medical professionals to the people of Ethiopia.
Harvard University, USA
Harvard University traces its roots to public health activism. The faculty commits themselves to research as well as teaching. The School produces knowledge through research, reproduces knowledge through higher education, and translates knowledge into evidence that can be communicated to the public, policymakers, and practitioners to advance the health of populations.
JOB DESCRIPTION 
Location                                  Debre Birhan with frequent visits to Angolela Tera Woreda study health facilities and  Shewarobit with a frequent travel to kewot woreda study health facilities
Responsible to:                       Primarily to the Field manager and the local PI for technical issues
No. of posts                             2
Duration of contract                1 year with likely extension
Principal Duties and Responsibilities
The post-holder will work full-time at Debre Birhan with frequent visits to Angolela Tera woreda health facilities and Shewarobit with frequent visits to Kewot woreda health facilities and will have a regular interaction with the field manager and MCH facility data collectors in the study facilities. The post holder is expected to support the research activities in the health facilities specially the study obstetric ultrasound examination conducted in the study facilities.
Key Responsibilities
Design and develop research standard operating procedures and study materials including but not limited to questionnaires, informed consent documents, logs, study operational tools
Assist in the development of clinical materials and tools necessary to train individuals.
Train MCH facility data collectors on basic obstetric ultrasound
Mentor MCH facility data collectors with a regular supervisory and mentorship visit
Ensure the basic objectives of BIRHAN study ultrasound examination are done with high quality. These objectives include
Confirmation and localization of pregnancy by Ultrasound
Documenting fetal viability (cardiac activity)
Documenting the number of fetuses
Determining gestational age
Others to be included as necessary.
Ensure the ultrasound images are collected and transferred by the supervisors every week to a central repository.
Implement quality assurance protocol and provides feedback to MCH facility data collectors.
Review at least 10% of all the ultrasound images for quality.
Monitor the progress of research activities, develops and maintains records of research activities and prepares periodic reports as required
Ensure that the ultrasound machines at the health facilities are well kept and maintained.
Ensure that the logistics required for the ultrasound examination are provided on time
Reports to the field manager and local PI
This job description reflects the present requirements of the post but may be altered at any time in the future, as duties and responsibilities change and/or develop providing there is full consultation with the post-holder. The post-holder will carry out any other duties, tasks or responsibilities as reasonably requested by local PI. 
Job Requirements
Essential requirements
BSc radiographer
Work experience of at least 2 years
Experience in obstetric ultrasound
Excellent oral and written communications skills in English
Applying Instructions
To apply send application letter, CV and credentials to:
Email:  mchsurveillance@gmail.com Application e-mail subject stating "BIRHAN Radiographer Application"
OR mail to Saint Paul's Hospital Millennium Medical College, P.O. Box 1271 Addis Ababa, Ethiopia
OR Submit in person to the human resource department
Closing Date:      Within 10 days of the announcement of this vacancy
                              Only short-listed candidates will be contacted
WARNING: Do not to pay any money to get a job. Please report fraudulent jobs to info@newjobsethiopia.com