Regional Office Finance Coordinator
Description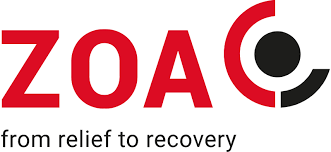 About ZOA
ZOA works with committed and motivated staff in serving millions of people affected by poverty, disaster, injustice and conflicts. Through the efforts of our dedicated staff, we are able to bring Signs of Hope and to support people who suffer due to armed conflict or natural disasters by helping them to rebuild their livelihoods.
We value our employees and offer a wide range of benefits to meet the specific needs of our staff and their families. However, ZOA has a zero tolerance towards violation of safeguarding policies like Child Protection & Protection from Sexual Exploitation and Abuses.
Because ZOA highly values Integrity, we also expect all colleagues to sign up for and adhere to our Code of Conduct. As part of its recruitment process, ZOA carries out rigorous background and reference checks for all candidates, which will include checking government sanction lists and possibly criminal records. As ZOA also participates in the Inter-Agency Misconduct Disclosure Scheme, all reference checks include a written questionnaire, the "Statement of Conduct", which will be sent to past employers regarding Misconduct (such as sexual exploitation, abuse or harassment). This Statement of Conduct adopts the definitions used in the Scheme. The provision of references by ZOA will be subject to the Scheme as well.
Purpose:
Finance and Operations department, based in Addis Ababa with travel approximately six times per year to regional offices (brief visits).
Based in ZOA Ethiopia's office in Addis Ababa, the role of the Regional Office Finance Coordinator (ROFC) is to provide technical supervision and support to Finance Officers in ZOA's offices in Tigray, Somali, Oromiya and Gambella regions to ensure that they achieve the objectives of timely and accurate reporting, effective financial management, donor compliance and full utilization of ZOA's finance systems. S/he will proactively work with ZOA colleagues on key issues and opportunities and find and implement solutions at the country and regional level.
ESSENTIAL RESPONSIBILITIES AND DUTIES:
 Review and provide technical support to finalize internal financial reports submitted by ZOA Ethiopia's regional offices, ensuring that these reports are complete and correct, and submitted by the agreed internal deadlines;
Provide regular technical supervision to Regional Finance Officers in the regional offices to ensure that all financial systems are being properly utilized;
When required, directly support ZOA's project delivery and implementation through preparation and review of budgets for projects, supervising expenditure according to ZOA policies, making payments, providing forecasts and preparing financial statements as required;
Provide support and cover for Regional Finance Officers at times of high work load, fulfilling front-line financial management duties when directed by the Head of Finance and Compliance or Director of Finance and Operations;
Perform quality reviews and analysis of monthly, quarterly and annual financial reports related to specific projects and ZOA Ethiopia's Regional Offices;
Perform comprehensive reviews of Project and Regional Office financial reports to include performance analysis in the following areas: balance sheet, income statement, cash, grants/contracts, unrestricted and general contributions, actual expenses vs. budget, forecasting and budgeting, adequacy of adherence to generally accepted accounting principles and ZOA's financial procedures;
Provide ongoing feedback to the Head of Finance and Compliance to improve effectiveness in ZOA Ethiopia's financial management, particularly at regional office and project level;
In collaboration with colleagues in ZOA Ethiopia's Finance and Operations Department identify and implement preventive and corrective actions to address issues found during the reviews;
Support the Regional Offices in financial management of projects, including cash management, budgeting and forecasting, as well as implementing responses to audit findings and trouble shooting in finance and accounting;
Ensure management of budget is consolidated by Regional Offices according to ZOA's internal processes, and ensure that overviews of the Regional Office financial outlook are provided in a timely and accurate manner to ZOA Ethiopia's Addis Ababa office;
Provide assistance to Regional Offices in the preparation of their operational and donor budget and forecasting;
Provide support to the Regional Office to ensure that all financial records and backup documentation are archived according to ZOA's procedures and readily available for audits;
Participate in preparation and review donor financial reports for submission;
Provide support for statutory and project-based audits;
Perform periodic analysis in capacity of finance staff in Regional Offices in finance and accounting and recommend appropriate actions to address any gap in skills;
Assess Regional Office staffs' ability to perform satisfactorily in financial management and to meet ZOA performance standards;
Provide orientation for new finance staff in country offices on ZOA policies and systems;
Ensure all Regional Offices have updated copies of ZOA policy and procedures.
Liaise with the Grants Finance Coordinator to review and cross check donor financial reports for accuracy and consistency with internal financial reports and records;
Review financial payment documentation from each of the Regional Offices;
Handle financial queries from government bodies;
Liaise with internal and external auditors for the smooth running of audits;
Support regional offices to prepare for audits by reviewing relevant documents in procurement, administration, HRM, logistics and IT;
Record and communicate lessons learned from pre-audits, internal audits and external audits, ensuring that systems and practices are modified accordingly;
Ensure that guidelines for financial management of ZOA are developed and maintained;
Ensuring that procurement processes are conducted according to donor and ZOA procurement procedures;
Ensure that the internal controls are in place and functioning to safeguard ZOA's assets and administration;
Ensure that finance data from regional offices is filed in a consistent, transparent and secure manner.
Job Requirements
QUALIFICATIONS & REQUIREMENTS
 Personal qualities of integrity and commitment to ZOA's mission; proactive, hands-on and confident communicator who will work with finance colleagues in ZOA Ethiopia;
Bachelor's degree in accounting, business management or similar and advanced university degree in Finance & Accounting required, or a commensurate amount of experience;
A minimum of 3 years' experience as finance officer in an international non–profit agency.
EU, UN and USAID government funded grants financial and administrative management experience preferred;
A track record in grants management as it relates to compliance and reporting of government, corporate and foundations grants;
Excellent financial and analytical skills;
Excellent communication and drafting skills for effective reporting on program financial performance;
Ability to operate in a cross-cultural environment requiring flexibility;
Familiarity with the aid system, and understanding of donor and governmental requirements;
The candidate must be detail-oriented and able to work independently;
Strong interpersonal and communication skills; experience in effectively communicating key data, including presentations.
Fluency in English required - ability to communicate in various local languages a strong asset.
Sufficient Knowledge and proven skills of using financial computer system software & programs
Flexibility and the ability to thrive in a fast-paced environment;
Intermediate to advanced software expertise (Excel and accounting software);
Excellent interpersonal skills and the demonstrated ability to lead, build and work effectively in team situations;
Experience in organizational representation, and liaison;
Cultural sensitivity and proven experience in working in Ethiopia with international NGOs;
Excellent conceptual, planning, organizational and time management skills;
Excellent communication, negotiation and problem-solving capacities;
Fluency in English and Amharic (written and spoken);
Strong IT Skills and knowledge;
Ability to manage stress, multi-task and take decisions.
VALUES:
Accountability:
 Holds self-accountable for making decisions, managing resources efficiently, achieving results in line with ZOA core values;
Good knowledge of CHS and capacitate partners to work in adherence to CHS;
Holds the team and partners accountable to deliver on their responsibilities – giving them the freedom to deliver in the best way they see fit, providing the necessary development to improve performance and applying appropriate consequences when results are not achieved;
Creates a managerial environment in-country to lead, enable and maintain our culture of child safeguarding.
Ambition:
Sets ambitious and challenging goals for self;
Widely shares personal vision for ZOA, engages and motivates others;
Future oriented, thinks strategically and on a global scale.
Collaboration:
 Builds and maintains effective relationships, with own team, colleagues, members, donors and partners;
Values diversity, sees it as a source of competitive strength;
Approachable, good listener, easy to talk to.
Creativity:
Develops and encourages new and innovative solutions;
Willing to take calculated risks.
Integrity:
 Honest, encourages openness and transparency;
Always acts in the best interests of children.
Applying Instructions
If you are interested in this position, please apply via ethiojobs.net by sending your CV and a motivation letter indicating your suitability for this position to before the due date
Please provide at least 3 references related to your previous employment listed in your CV or motivation letter.
Only selected candidates will be contacted and invited to participate in the process of recruitment. It is our aim to inform candidates of their status in the recruitment process within 4 weeks after the vacancy has closed. A written test will be part of the recruitment procedure. Documents that do not match the profile above will not be considered. Internal candidates will have priority, in case of similar results. Also we reserve the right to stop accepting applications before the end date if we find a suitable candidate.
WARNING: Do not to pay any money to get a job. Please report fraudulent jobs to info@newjobsethiopia.com