Registrar & Programming Office Head
Description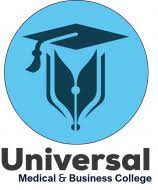 Department:  Registrar and Programming Office
Reporting to: Academic Dean
Occupation Category: Semi Managerial & Professional
Brief Profile of the College:
Established in 2002, Universal Medical & Business College (UMBC), is one of the pioneers in the Ethiopian Private Higher Education sector. Since its establishment, UMBC has been offering quality education and training in various health fields including Pharmacy, Nursing and Public Health programs both in degree and TVET/diploma level. The college lately has launched its 1st Postgraduate program, i.e. Public Health in Nutrition. Currently, having its headquarter around Hayahulet Mazoria behind Dinberua Hospital (MCH), UMBC is on the verge of launching new Postgraduate and Undergraduate Programs in Business and Finance fields of studies along with expanding its existing programs in terms of level and catchment area. In doing so, the college invites qualified and interested applicants in the following position/s who will assist in realizing its plans.
Summary of Job Requirements:
Any successful candidate for this advertised position is expected to be able to plan, coordinate, and direct all activities of the Registrar and Programming Office so that classes are run smoothly and records are maintained properly and handled confidentially regardless of circumstances. S/he will provides support to supervisors and subordinates in relation to admission & registration processes, prepares academic calendar, certificates, student copies and other documents and various statistical information regarding students.
Major Duties and Responsibilities
Prepares the Office's annual plan and ensures its appropriate implementation, and prepares and submits monthly/bi-monthly/quarterly/annual performance reports accordingly;
In collaboration with the Admin office, recruits, selects, assigns, trains, and evaluates subordinates within the Office;
Ensures the academic policies with regard to students' admission, recording, graduation   course requirement fulfilments, consistent interpretation and implementation of the academic regulation of the College;
Develops and implements systems to maintain student academic records; keeps clean records on all academic matters pertaining students and programs within the College;
Creates and maintains up-to-date, confidential and safe record of students including dropouts, dismissals, transfers and withdrawals;
Provides information related to students population or proper allocation and optimum use of classrooms, laboratories, demonstrations and related facilities of the College;
Prepares Academic Calendar, get it approved by the Academic Commission/Senate and follow-up the implementation;
Ensures the timely submission of grades to the registrar and programming office from all departments in accordance with the Academic Calendar;
Corresponds with domestic and foreign organizations regarding students' academic status;
Arranges, in collaboration with deans and Departments, orientation programmes for new students and graduation rehearsals before graduation ceremonies.
Ensures the proper administration of admission, readmission, placement, class and exam schedules, semester registration, Add/Drop, Make-up Administration, etc.;
Ensures timely issuance of semester grade reports, transcripts and original diplomas to students after making sure that necessary clearances are carried out;
Interprets and enforces academic rules and regulations;
Coordinates the preparation and compilation of course catalogues/breakdowns;
Produces lists of prospective graduates and ensures approval by the senate;
Produces different statistical reports related to student attrition and retention;
Ensures the smooth running of the data base system of the Office of the Registrar;
Performs other activities assigned by supervisors;
Job Requirements
Essential Competencies & Qualities
Familiarity to HERQA's HEMIS
Oral & Written fluency in English and Amharic languages;
Knowledge of the theories, principles & practices of management;
Excellent communication, facilitation and networking skills; proven experience in coordinating & leading team/s;
Strong analytical ability and problem solving skills;
Excellent interpersonal & demonstrational skills;
Good communication and report writing skills;
Experience in Using and Managing Student Information Management System Software;
Ability to work in pressures and to meet deadlines;
Faithfulness to work ethics, to the rules and regulations in all aspects
Educational Qualification & Experience
MSc/MA/BSc/BA in Computer Science, Information System/ Information Technology/ Statistics/ Management Information System or Related Fields;
A minimum of 6 years related experience in Ethiopian Private Higher Education Institution/s of which at least two years as Head of Registrar;
Applying Instructions
Please send non-returnable copies of your CV and credentials to the following address umec@ethionet.et or ekdikisesa@yahoo.com, or in person at Universal Medical & Business College around Hayahulet Mazoria behind Dinberua Hospital (MCH), 4th Floor Room No: 401. For further information, call at +251 910 21 96 52 or +251 116 62 19 20
Only short-listed candidates will be contacted for further screening and interviews.
WARNING: Do not to pay any money to get a job. Please report fraudulent jobs to info@newjobsethiopia.com