Senior Agri Finance Specialist
Description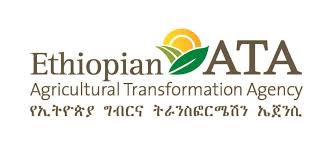 The Ethiopian Agricultural Transformation Agency (ATA) is a strategy and delivery-oriented government agency created to help accelerate the growth and transformation of the country's agriculture sector. The ATA envisions that, by 2025, smallholder farmers are commercialized with greater incomes, inclusiveness, resilience and sustainability, contributing to Ethiopia's achievement of middle-income country status.
The agency focuses on two primary national approaches to catalyze agricultural transformation. First, we support the Ministry of Agriculture and Livestock Resources (MoA), its affiliate institutions, and other partners to identify and address systemic bottlenecks within an Agricultural Transformation Agenda. Second, we support Regional Governments to accelerate development of high-priority commodity value chains in clearly defined geographic clusters, through the Agricultural Commercialization Clusters (ACC) Initiative.
Our major activities include conducting strategic and analytical studies, providing technical implementation support, coordinating platforms to better integrate partners and projects, and designing and directly leading a number of implementation projects. Our headquarters are in Addis Ababa, and we have regional offices in Amhara, Oromia, SNNP, and Tigray regional offices, allowing us to work closely with a wide range of public, private and development sector partners across the country.
Our Culture
We have an exceptional team of highly competent employees with a proven track record of success in managing complex activities and achieving transformational results.  Our culture is one where talented, dedicated and adaptable individuals are committed to doing their best and exhibit great team work to achieve excellent results.
At ATA, we provide an exceptional platform for people who want to achieve their highest potential and make a meaningful contribution in changing the country's agricultural sector.  We offer rewarding work in a young, fast-paced growing organization with passionate, committed, motivated colleagues and excellent career development and training.  We recognize our most valuable assets are our staff and are committed to providing our employees with the tools, training and mentorships necessary to achieve their career goals.
POSITION SUMMARY:
AgriHub is looking to bring on an Agri finance specialist to oversee AgriHub's access to finance for the MSMEs it supports and its partnerships with financial institutions. One of the three main success criteria of AgriHub is increasing access to finance for MSMEs AgriHub supports. AgriHub aims to do this by providing support to selected financial institutions to help develop an adapted strategy to provide financial support for agricultural MSMEs. Within Ethiopia, there exists a financing gap for small and medium-sized enterprises that are too large for microfinance institutions but are still considered risky by larger banks. The adapted strategies the Agri finance specialist helps develop with partner financial institutions will be tailored to help fill this gap. Financial institutions selected for partnership with AgriHub will benefit from a matching scheme and a de-risking package combining access to guarantee, customized technical assistance to develop agri-SME finance strategy and products, and facilitation for linkage with existing subsidized credit line targeting. This support will be granted under the assumption that partner financial institutions commit to deliver adapted financial services to Agri-SMEs, with priority for SMEs supported by ATA.
The Agri finance specialist will help see through the partnerships with financial institutions from beginning to end starting with the identification of which financial institutions to partner with. From there, the Agri finance specialist will lead the implementation and design of the above listed matching, de-risking, and training scheme for the financial institutions. In addition to this, the Agri Finance specialist will spearhead a partnership with DBE to facilitate asset leasing, wholesale financing, and SME credit lines for partner institutions. The Agri Finance specialist will also oversee linkage with investment funds for equity / quasi-equity and long-term debt agreements for large and mature AgriHub SMEs.
 ESSENTIAL DUTIES:
Oversee identification, screening, and selection of partner investment institutions.
Spearhead partnerships with DBE to facilitate asset leasing, wholesale financing, and SME credit lines for partner financial institutions.
Identification of execution of partnerships with investment funds for equity/quasi-equity and long-term debt agreements for AgriHub's large and mature SMEs.
Assist, oversee, and execute the development of strategies to provide agri-SME technical assistance to partner financial institutions.
Organizing workshop at inception of Project with NBE, bankers associations, AEMFI, selected commercial banks and MFIs, DBE, investment funds, enterprise partners, USAID/DCA, Fintrac, AGRA, PROSEAD, training centers, and other stakeholders to present objectives of the Project and support to partner financial institutions.
Obtain feedback from above workshop to adjust modalities of partnership or support with financial institutions based on workshop outcomes.
Oversee and help conduct scoping studies of investment funds.
Development, management, and monitoring of MoU with partner financial institutions, collaboration with DBE, and collaboration with investment funds.
Execute regular workshops to communicate the activities and results of these partnerships and look for further synergies with other interventions twice a year.
Work with international donors on guarantee scheme for partner financial institutions; track regularly budgets and use of funds by AgriHub SMEs and financial institutions.
Support regional Business Advisors and AgriHub HQ team help connect AgriHub enterprises to financial institutions.
Collect, track, and create materials to disburse learned lessons from AgriHub and best-practices for AgriHub supported enterprises.
Act as a liaison between all relevant AgriHub stakeholders (e.g. regional teams, project teams, HQ management) on anything related to the AgriHub financing scheme.
Help manage procurement of any additional AgriHub resources related to the financing scheme
Provide regular documentation and updates to donors, internal stakeholders, and local government stakeholders.
Job Requirements
REQUIRED QUALIFICATIONS:
Bachelors and/or master's degree in finance, development economics, economics, management, accounting, political science, or other relevant fields.
At least 8 years (Bachelors) or 6 years (Masters) relevant experience in the Ethiopian financial sector at a management position level.
Demonstrated ability to interact effectively and collaboratively with a broad range of public and private sector counterparts and other key stakeholders.
Experience on working with international donors.
Fluency in English is required.
PREFERRED QUALIFICATIONS:
Excellent and demonstrable in-depth understanding of the dynamics of the Ethiopian agricultural private sector, SME financing, and challenges related to financing agricultural SMEs within Ethiopia.
Track record of successfully working with large financial institution within Ethiopia.
Specific work experience in product design for agricultural SME financing.
Demonstrable track record of success with program design, performance management, monitoring, and evaluation.
Excellent oral and written communication skills.
Applying Instructions
We invite all candidates meeting the required qualifications to submit (i) a cover letter and (ii) CV (maximum 3 pages) to https://apply.ata.gov.et
It is mandatory to mention the position title in the subject line of your application email.
Please DO NOT submit scans of educational and experience certificates with your application.
Women are highly encouraged to apply.
Only short-listed candidates will be contacted.
WARNING: Do not to pay any money to get a job. Please report fraudulent jobs to info@newjobsethiopia.com