Senior Communications Officer C4 (L) (40/19 ADD) – Africa Uplift
Description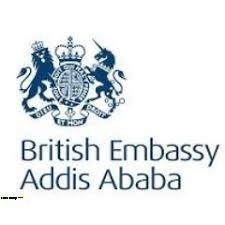 Senior Communications Officer C4 (L) (40/19 ADD) - Africa Uplift 
The British Government is an inclusive and diversity-friendly employer.  We value difference, promote equality and challenge discrimination, enhancing our organisational capability. We welcome and encourage applications from people of all backgrounds. We do not discriminate on the basis of disability, race, colour, ethnicity, gender, religion, sexual orientation, age, veteran status or other category protected by law. We promote family-friendly flexible working opportunities, where operational and security needs allow.
Job Category:  Foreign and Commonwealth Office (Policy & Political roles)
Job Subcategory:  Communications, Press and Media
Job Description (Roles and Responsibilities)
Main purpose of job:
The job holder will lead engagement with Ethiopian media stakeholders. They will identify priority issues to inform the Embassy's communication plans and leverage good relationships to support positive media coverage for the Embassy. The job holder will help formulate key messages that promote the work of the UK in Ethiopia acting as the main contact for Ethiopian media editors and senior journalists. The job holder will assist with our media freedom programme helping to ensure Ethiopia's media becomes a platform for open and tolerant debate.
Roles and responsibilities:
The UK's Embassy in Addis Ababa is one of our largest in Africa, and the development programme run from within it is our biggest on the continent. The UK also works closely with the Government of Ethiopia on matters of regional and international security, and in promoting economic reform and protecting human rights.
We are proud of our longstanding bilateral relationship with Ethiopia and as Ethiopia reforms we are keen to further improve our relationship with the country's growing and evolving media industry. We are therefore expanding our communications team, linking in with new influencers and activists as well as retaining our strong relationship with traditional print media, TV and radio. This new role will help showcase the important work the UK is doing to support Ethiopia's development.
The successful candidate's primary role will be to lead engagement with Ethiopia's media stakeholders. The job holder will help the communications team craft high-quality content which showcases the UK's work in Ethiopia. Excellent English and Amharic language skills are essential and knowledge of other Ethiopian languages would be advantageous. The successful candidate will also help plan our new communications strategy, working with the Head of the Communications team to craft engaging and sustained campaigns.
The successful candidate will either already have or will quickly develop a network of contacts in the media industry and provide regular reporting on the state of the media and updates on the media's view on the political changes taking place in Ethiopia. To do this they will need to use their initiative, working with others across the embassy to gain a clear and accurate picture of the challenges the media industry is facing and how it will be impacted by new regulations and the rise of social media influencers. The officer will help support the delivery of the embassy's media freedom work, helping to advise where the UK should look to support and influence to help empower local journalists to deliver fair, accurate and impartial reporting.
The jobholder will also help lead the wider communications and soft power team, particularly on producing engaging social media content. This will include the opportunity to learn new digital skills and travel on field trips to gather content with different teams within the embassy.
This is a wide ranging job covering the full range of communications work. The position offers an excellent opportunity for an enthusiastic professional to refine their media skills in an international context and perfect their analysis and reporting through regular contact with senior members of the embassy team.
Resources managed (staff and expenditure):
2x B3(L) Communication Officers.
Job Requirements
Essential qualifications, skills and experience  
At least 3 years' working experience.
Experience and knowledge of Ethiopia's media sector.
Fluent English and Amharic
Desirable qualifications, skills and experience  
Knowledge of other Ethiopian languages are desirable.
Required competencies  
Leading and Communicating, Collaborating and Partnering, Managing a Quality Service, Delivering at Pace
Application deadline:  10 January 2020
Grade:  C4 (L)
Type of Position:  Fixed term, with possibility of renewal
Working hours per week:  36
Region:   Africa
Country/Territory:  Ethiopia
Location (City): Addis Ababa
Type of Post:  British Embassy
Number of vacancies:  1
Starting monthly salary:  ETB 43,026
Start Date: 2 March 2020
Other benefits and conditions of employment
Working patterns:
The standard working hours of the British Embassy for office staff are 0800-1645 Monday-Thursday and 0800-1300 on Fridays. Occasional evening and weekend work may be required when travelling around Ethiopia. Time off in Lieu will be given where possible.
Learning and development opportunities (and any specific training courses to be completed):
The successful candidate will get access to a range of learning and development opportunities, including on the job training and workshops with communication experts.
They are likely to be able to attend training in the UK as well as communications events and training across the Africa network.
There will also be an opportunity to learn new digital communication skills including video editing and social media content creation.
Additional information
Annual Leave and Public Holidays:
Locally engaged staff of all grades will be entitled to paid annual leave as follows:
Up to 2 years 22 days
After 2 years services 25 days
After 5 years services 30 days
In addition to annual leave, the British Embassy observes up to a maximum number of 14 Ethiopian, British and Religious public holidays each year. A list of such Embassy holidays will be published each year. Office Staff required to work on these holidays will be granted time off in lieu or overtime where circumstances permit.
Applying Instructions
Please complete the application form in full as the information provided is used during screening.
Please check your application carefully before you submit, as no changes can be made once submitted.
The British Embassy will never request any payment or fees to apply for a position.
Employees recruited locally by the British Embassy in Addis Ababa are subject to Terms and Conditions of Service according to local employment law in Ethiopia.
All candidates must be legally able to work and reside in the country of the vacancy with the correct visa/work permit status or demonstrate eligibility to obtain the relevant permit. The responsibility lies on the successful candidate to;
Obtain the relevant permit
Pay the fees for the permit
Make arrangements to relocate
Meet the costs to relocation
Employees who are not eligible to pay local income tax: e.g. certain third-country nationals and spouses/partners of UK diplomats will have their salaries abated by an equivalent amount.
Information about the Foreign and Commonwealth Office Competency Framework can be found on this link:https://www.gov.uk/government/publications/civil-service-competency-framework Please note:  Job grade AA=A1, AO=A2, EO=B3, HEO=C4, SEO=C5
Reference checking and security clearances will be conducted on successful candidates.
Please log into your profile on the application system on a regular basis to review the status of your application.
Interested and qualified applicants are encouraged to click on the below link and apply through our recruitment platform only. 
Senior Communications Officer C4 (L) (40/19 ADD) - Africa Uplift
Please be aware that you will only be able to apply to vacancies for Local Staff roles with the British Government through this official tal.net site (operated by Oleeo). Jobs may be advertised on third party websites, however our adverts will always link back to the official tal.net site. If you complete and send an application through any other site, we will not receive it.
WARNING: Do not to pay any money to get a job. Please report fraudulent jobs to info@newjobsethiopia.com