Senior Manager – Monitoring and Evaluation (Re-advert)
Description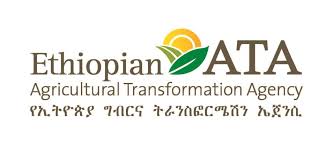 Vacancy Announcement
ETHIOPIAN AGRICULTURAL TRANSFORMATION AGENCY
Position:                          Senior Manager – Monitoring and Evaluation (Re-advert)
Term of Employment:   One year with possibility of extension
Duty Station(s):              Addis Ababa
Required Number:         One
Salary & Benefits:           Competitive
Application Deadline:    August 09, 2020
BACKGROUND:
The Ethiopian Agricultural Transformation Agency (ATA) is a strategy and delivery-oriented government agency created to help accelerate the growth and transformation of the country's agriculture sector. The ATA envisions that, by 2025, smallholder farmers are commercialized with greater incomes, inclusiveness, resilience and sustainability, contributing to Ethiopia's achievement of middle-income country status.
The agency focuses on two primary national approaches to catalyze agricultural transformation. First, we support the Ministry of Agriculture and Livestock Resources (MoA), its affiliate institutions, and other partners to identify and address systemic bottlenecks within an Agricultural Transformation Agenda. Second, we support Regional Governments to accelerate development of high-priority commodity value chains in clearly defined geographic clusters, through the Agricultural Commercialization Clusters (ACC) Initiative.
Our major activities include conducting strategic and analytical studies, providing technical implementation support, coordinating platforms to better integrate partners and projects, and designing and directly leading a number of implementation projects. Our headquarters are in Addis Ababa, and we have regional offices in Amhara, Oromia, SNNP, and Tigray regional offices, allowing us to work closely with a wide range of public, private and development sector partners across the country.
Our Culture
We have an exceptional team of highly competent employees with a proven track record of success in managing complex activities and achieving transformational results.  Our culture is one where talented, dedicated and adaptable individuals are committed to doing their best and exhibit great team work to achieve excellent results.
At ATA, we provide an exceptional platform for people who want to achieve their highest potential and make a meaningful contribution in changing the country's agricultural sector.  We offer rewarding work in a young, fast-paced growing organization with passionate, committed, motivated colleagues and excellent career development and training.  We recognize our most valuable assets are our staff and are committed to providing our employees with the tools, training and mentorships necessary to achieve their career goals.
POSITION SUMMARY:
The Senior Monitoring and Evaluation Manager will report to Director of Performance Management Unit (PMU) and contributes to the team in the following key activities. Lead Evaluation, Baselines and monitoring for projects implemented by Ethiopian Agricultural Transformation Agency (ATA) and projects of the Transformation Agenda. Support the integration of M&E in program and project design;  Independent performance management of ATA owned deliverables and sub-deliverables through monitoring and evaluation of programs & projects; and coordination support with partners on impact evaluation in the sector, capacity building of ATA staff on monitoring and evaluation.
He/she leads team members reporting to him/her and is the key person in all the monitoring,  evaluation and baseline phases including research design, instrument development, engaging in the field work, data analysis and writing  monitoring, evaluation and baseline report. He/she is also responsible to staff capacity building on monitoring and evaluations and contributes to project/program learning. The Senior Monitoring and Evaluation Manager also involves in project design especially in developing Result's Framework for new projects and refines Results Framework for those projects having RFs as necessary.
 ESSENTIAL DUTIES:
Support in designing of projects engaging in Results Framework development and ensure the RFs are to the expected standard with SMART indicators and logical linkages.
Develop M&E plans for all projects and proposals and ensure the same is followed up during implementation.
Lead evaluations of projects owned by ATA in collaboration with other PMU team and project implementation teams.
Work with project teams in planning monitoring, baseline and evaluations timelines and budgeting.
Design appropriate research methods that reflect the objective and complexity of the project.
Undertake meta-analysis of data collected through multiple projects to examine and identify drivers of change or impact indicators.
Work with the project teams and partner institutions in designing research instruments.
Engage and lead primary and secondary data collection, cleaning and analysis.
Lead evaluation and baseline report writing as per the expected standard.
Support evaluations to be conducted by external consultants as appropriate.
Work with CCI team to ensure mainstreaming of cross-cutting issues (like Gender, Climate and Nutrition) in the entire process of evaluations and baselines.
Carry out data quality assessments/ audits regularly for monitoring and evaluation data based on agreed indicators to guide decision making.
Facilitate stakeholder's workshops/meetings to validate evaluation findings and disseminate results of evaluations to relevant parties.
Work with Learning Manager and communications team to produce and communicate learning and evaluation briefs.
Maintain evaluation tracker for monitoring the evaluation process.
Lead programming of the instruments into electronic data collection systems (KOBO, CSPro, survey CTO, etc)
Develop tools and approach to monitor results of programs and projects implemented by Ethiopian Agricultural Transformation Agency (ATA) and projects of the Transformation Agenda.
Manage/coordinate ATA programs and project results monitoring data collection, analysis and reporting as per ATA's quality standards.
Organize and lead joint field monitoring visits to selected sites of ATA managed projects.
Plan and conduct spot check monitoring to selected sites of ATA managed projects.
Support PMU team on co-ordination of planning process with ATA staff and relevant stakeholders.
Coordinate/support/contribute on capacity-building activities with ATA staff on monitoring and evaluation.
Perform other duties as required and requested by the PMU Director.
Job Requirements
REQUIRED QUALIFICATIONS:
Master's Degree in Development Economics, Agricultural Economics/ Economics, Development Studies, Monitoring and Evaluation, Statistics, or other relevant fields.
More than 8 years for MA/MS holders or more than 10 years for BA/BS holders with on hands on experiences working on project monition, baseline studies, evaluation and/or impact evaluation, preferably in the field of agriculture and rural development.
Deep understanding of the theory and application of performance evaluation as well as impact evaluation approaches.
Experience on meta-analysis, trend analysis and impact evaluations.
Specific experience and skills on research design, implementation and report writing.
Specific experiences in designing monitoring & evaluation systems based on project frameworks such as logical framework, results framework, outcome mapping.
Practical experience with data management and analytical software such as SPSS/Stata, etc
Experience in independently undertaking all the phases of baselines and evaluations.
High level of research report writing skills.
Consultancy experience is an advantage.
An understanding of Ethiopia's agricultural system, with a broad perspective on how the entire system operates and how public, private, NGO and informal actors operate within the system
Strong analytical skills as well as good knowledge of on-going efforts to transform agriculture in Ethiopia.
Ability to thrive in a fast-moving, start-up environment, with an emphasis on high performance, teamwork, accountability, and results.
Highly facilitative and collaborative working style.
Excellent analytical, problem-solving, and data gathering skills.
Excellent oral and written communication skills.
Strong set of personal values including integrity, honesty and desire to be of service
Fluency in English and Amharic is essential.
Applying Instructions
We invite all candidates meeting the required qualifications to submit (i) a cover letter and (ii) CV (maximum 3 pages) to https://apply.ata.gov.et
It is mandatory to mention the position title in the subject line of your application email
Please DO NOT submit scans of educational and experience certificates with your application.
Women are highly encouraged to apply.
Only short-listed candidates will be contacted.
WARNING: Do not to pay any money to get a job. Please report fraudulent jobs to info@newjobsethiopia.com