Work Readiness and Skills Development Lead for Enabling Ethiopia (EE) Project
Description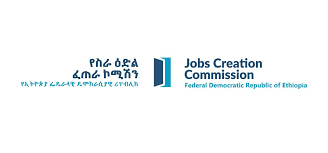 POSITION TITLE:    Work Readiness and Skills Development Lead  for Enabling Ethiopia (EE)    Project

DEPARTMENT:        Innovative Jobs and Projects(IJP) Director Team

REPORTS                   Innovative Jobs and Project(IJP)  Director/ Innovative Jobs and Projects Senior

                                    Manager EE Project

_____________________________________________________________________________________

The Jobs Creation Commission of the Federal Democratic Republic of Ethiopia is established under the Office of the Prime Minister to advance the government's goal around employment and job creation as per proclamation 1097/2018 which determines the powers and duties of the executive organs. Subsequently, the regulation 435/2018 promulgated by the Council of Ministers mandated the commission with the authority to govern and coordinate the jobs creation agenda at the national and subnational levels.

The Jobs Creation Commission has set a clear goal of creating 3 million jobs by 2019/2020, 14 million by 2025, and 20 million jobs by 2030 through guiding the investment of government, the private sector and development partners to high-growth sectors and implementing innovative programs and targeted policy interventions in the labor market to align skills development with market needs and incentivize and support entrepreneurship and enterprise creation. In accordance with its operational mandate, the Jobs Creation Commission is organized in five departments that include Policy and Strategy, Partnerships and Investments, Data & Analytics, Innovative Jobs & Projects, Delivery Assurance and Capacity Building teams. Accordingly, the Enabling Ethiopia (EE) project is one of the initiatives in achieving the above stated goals. The successful candidate will join a team during its takeoff and have a unique chance to shape and empower the team from the very beginning. Ultimately the role will be an opportunity to ensure the success of an organization and delivery of a program that is a crucial component in the future of Ethiopia.

JOB SUMMARY:

The Work Reediness and Skill Development Lead for EE project shall be a subject matter expert in the field of career counselling, skills development and jobs matching. S/he will work hand‐in‐hand with the director of the IJP team to identify, adapt, and implement the project model, train staff, build partnerships, and conduct monitoring and evaluation. The position requires to be familiar with the latest research, tools, and methodologies in the field of school-to-work transition. S/he will be the technical lead in implementing the "Develop human capital to meet the changing needs of the labor market" strategic pillar of the National Plan of Action for Job creation (PAJC).

SPECIFIC DUTIES AND RESPONSIBILITIES:

 Job Responsibility #1: Planning and Management

Prepare monthly, quarterly and annual and long-term plan of the skill development in line with the project activity plans
Coordinate soft skill and professional trainings according to the PAJC priorities and monitor the timely execution of each training session, including but not limited to

Basic Literacy skills – as the building block to perform more complex skills
Basic technological enablement for low-skilled workers to transform their skill development efforts including building 4IR talent
General proficiency in 21st Century skill sets at universities & tvets to meet the needs of the global labor market

Oversee the development of a trainer/assessor portal (as part of the National Job Portal)
Initiate internship/apprenticeship pilot projects with employers and employer's associations defining clear standards and practices for widespread adoption
Advocate for the development of mandatory universal internships and apprenticeship for university students
Establish and support baseline Skills "guidance centers" for priority secondary schools, universities, and TVETS
Establish and lead Sector Skills Committees (SSCs) in key industries
Create model youth centers to serve as industry-business linkages for skill training for youth ages 15 – 29
Re-brand career development centers at model universities and TVETs to build business linkages for internships, apprenticeships, volunteer services aimed at developing relevant skills
Introduce Prior Learning - mapping the existing skills in the informal sector to certify existing skills and integrating informal to the formal skilling landscape
Develop and promote tracer studies in higher education institutions
Promote active participation and support of the private sector in the development, definition, and validation of training programs
Map and coordinate all private, public and development partner interventions in the country to ensure proper alignment in strategic goals, proper utilization of resources, and consistency across service delivery.
Execute monthly ,quarterly semiannual and annual reports  within the scope of his/her team and work in collaboration with other project team and stakeholders.
Leading the coordination efforts; relating to convening relevant Ministries, Non-State Actors and organizing high-level meetings on issues directly related to work readiness and skill development   effort .

Job Responsibility #2: Staff Management

Direct, lead, guide, support, orient, mentor, assign responsibilities and control staff responsible to him/her to ensure that they are appropriately motivated and trained to meet all unit targets and that they carry out their responsibilities to the required standards;
Ensure that skills and knowledge are properly transferred to the staff of JCC under his/her supervision

Job Responsibility #3 Monitoring, Evaluation, Networking

Monitor the timely execution of planned activities and budget of the Innovative Job and Project team and effectiveness and efficiency of the team coordination with other teams and units in JCC.
Engage with stakeholders, build networking and share networking resources within the scope of the responsibility of the Innovative and Project team.

Job Responsibility # 4 Reporting

Submit on his/her weekly plan and weekly personal performance reports
Prepare and submit performance reports on a quarterly basis, in addition to weekly and monthly planning and performance reports which may be required by the team director and the Commissioner.

Job Responsibility #5: Others

Collaborate with other project team members and JCC staff.
Execute other activities assigned by the Team Director and the Commissioner

Job Requirements

Education/Training

BA degree or Master's Degree in Business Administration, Economics, Marketing, Entrepreneurship, Law, Psychology and/or another relevant field of study

Experience

At least six years (for Bachelor' Degree) / four years (for Master's Degree) of relevant experience required
At least 5 years of experience in career counselling, soft skills training curriculum development and training delivery working directly young professionals and students
In‐depth knowledge of career counseling and demonstrated success managing career development centers
Expertise in delivering training to diverse audiences with varying levels of education
Advanced knowledge of Ethiopia's higher education and vocational education systems
Considerable knowledge of sound Ethiopian Educational policies, procedures including an in-depth understanding of past and current institutional arrangements
Demonstrated interest and experience in the development sector or public sector
Strong multi-cultural, inter-personal, and supervisory skills
Highly collaborative management style and demonstrated success in managing and developing high-performance teams, including a clear passion and talent for training, coaching, and capacity building

Values, Technical and Other Skills

Innovative, Excellence, Ownership  and Collaboration & team building skills
Supervisory skills
Strong stakeholder and people management skills
Excellent written and verbal communication, in Amharic and English.
 Ability to thrive in a fast-moving, start-up environment
Applying Instructions
Interested applicants should send non-returnable C.V., application letter outlining how their experience and education fit this vacancy in the  email address :

jcc-hr@jobcommission.gov.et and hr@targetethiopia.com   ( please note that the application should be sent in both  email address)

Your application letter/cover letter must include the following information.

Name of the position you have applied for
Summary of  your qualifications and experience
Motivation/objective of why you have applied for the job
Please include at least 3 references from current and former supervisors

Please note that no need to submit your supporting document at this stage.
Only short-listed candidates will be contacted.
WARNING: Do not to pay any money to get a job. Please report fraudulent jobs to info@newjobsethiopia.com